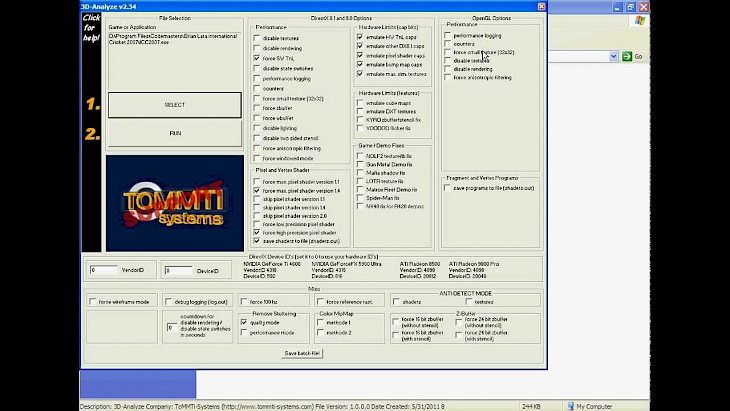 Download 3D-Analyze
Technology is dynamic and changing at a very rapid rate. Every product launched in the market gets updated timely and comes with a new version, rendering the previous version useless. In the case of a CPU or processor, it takes about a year to replace the previous high-performance system with a new innovative one. 3D-analyze is a useful software application that enables the user to play the latest and modern three-dimensional games on their old and outdated operating systems.
This fantastic software helps a couple of years old CPU or processor handle the high-processing power of new games. By working as a DirectX emulator, 3D-analyze will help the user to increase the graphics quality of their favorite games. Even they are using their old operating systems.
3D-Analyze software provides you with different features and tools to remove the limitations imposed on modern games without interruption. In case your graphic card is outdated, this application can function as a graphic card to enhance your gaming experience.
FEATURES
Provide a tremendous gaming experience
If you have an outdated graphic card, this software is there to help you out. You only need to create a new profile to make your graphic card compatible with the game. 3D-analyze will enhance the performance of your graphic card and make it perform much better.
Customized settings
This excellent gaming platform allows users to enable, disable forcing, or emulating different options available on this platform from its main window. 3D-Analyze allows the user to disable rendering, state switches, force SW TnL, lightning, and two-side stenciling, small textures, zbuffer, wbuffer, low or high-precision pixel shader, 16-bit or 24-bit zbuffer, with or without a stencil.
Adjust and change these features according to your need and convenience. The user can emulate pixel shader cups, maximum sim texture, cube caps, DX8.1 cap, DXT Textures, etc., and apply some ready fixes for titles such as NOLF2, Gun Metal, LOTR, and Mafia.
How to Download 3D-Analyze on your PC?
3D-analyze is one of the best application available on the internet to enable the user to use their few years old operating systems effectively to play your favorite video game. Before downloading this software, make sure that you will check your system specifications. To install this fantastic software on your Windows operating system, you can follow the instructions described below.
Step 1: Thankfully PC version of this application is available easily. You can install this browsing application from its official website.
Step 2: Alternatively, open your browser and search "Download 3D-Analyst for Windows" in the search box.
Step 3: Now, you will get a list of websites on your search result page. You can select any trusted website like filehorse.com to download the setup or .exe file of this software.
Step 4: Once you have downloaded the setup file, start the installation process and follow the step-by-step guidelines and instructions to run this software on your system.
Step 5: After following all the steps, click on finish. You can now use this excellent software to play your favorite game even on your old operating system.
3D-Analyze is easy to use and can run modern high-performance games without stressing your hard drive. This software is freeware and available for Windows 32-bit and 64-bit.
You might also like