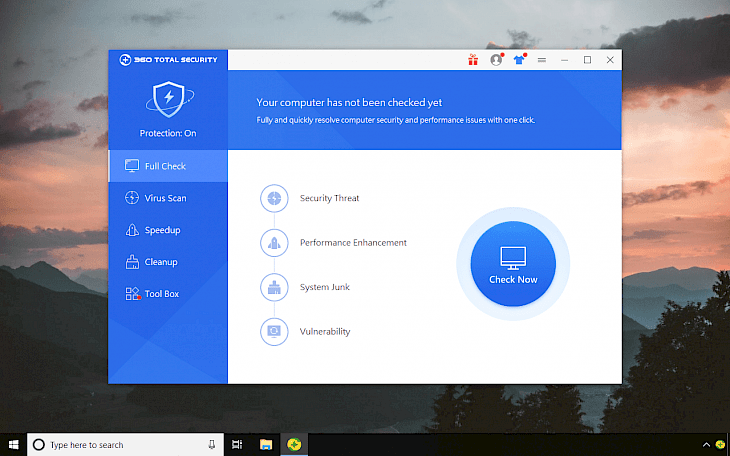 Download 360 Total Security
360 Total Security is a free antivirus solution to secure Windows system against viruses, trojans, malware, etc. This antivirus security suite is using five engines: 360 Cloud Engine, 360 QVMII, System Repair Engine, and optional Avira and Bitdefender.
By default, the antivirus uses 360 engines, and you can activate Avira and Bitdefender antivirus engine from the main window. The security suite is packed with system protection modules like USB Drive Protection, Network Threat Blocking, Malicious Behavior Blocking, File System Protection, Registry Protection, Auto-Scans Files When Saved, Auto-Scans File When Opened, Bitdefender Scan Engine and Avira Scan Engine. Privacy protection includes Webcam Protection and Keylogger Blocking feature.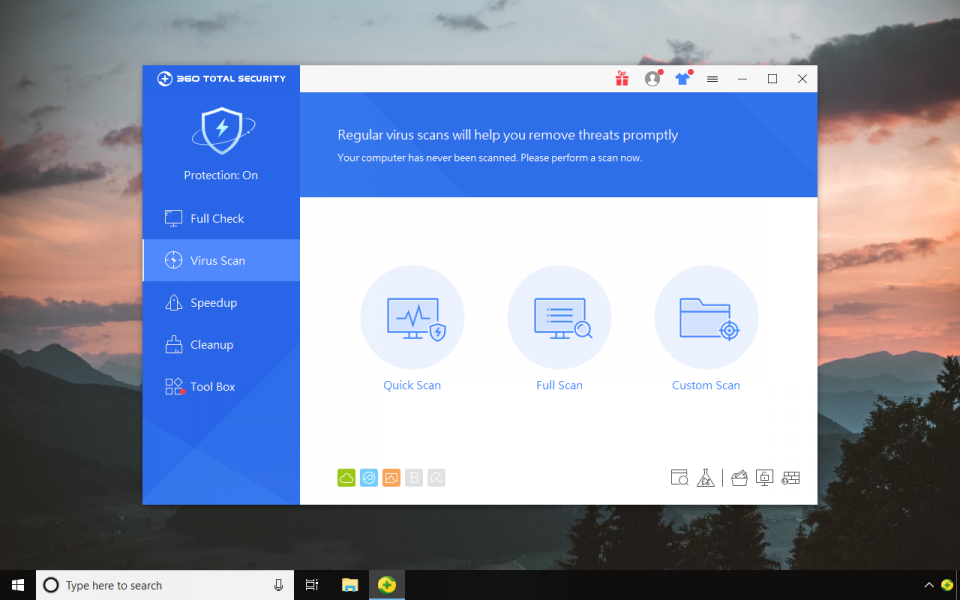 The security suite is packed with a free sandbox feature allowing applications to run in an independent environment without the risk of operating system to fail.
You can easily run programs in the sandbox from system contextual menu, or by selecting an app from run a specific program available in the Sandbox interface. Moreover, using the sandbox you can mark apps to run in a sandbox, and cleanup all settings at shutdown.
In addition, the software checks the Wi-Fi network for security errors, allows you to quickly scan the system and selected locations using a quick scan, full scan, or custom scan. The platform offers features responsible for speeding up your PC.
On the Speedup, we can find recommended settings for programs and services running on the system. With the help of this module, you can quickly free up system resources and increase the efficiency of the system. Database Speedup recognizes more than 52,000 applications.
From the ToolBox menu you have access to modules like registry cleaner, firewall, sandbox, ransomware decryption tools, system backup cleaner, game booster, browser protection, instant setup, patch up, or 360 document protector. 360 Total Security download is available for Windows 32- and 64-bit versions.
360 Total Security is a free antivirus solution that works on Avira and BitDefender engines. The multiple engine protection includes also 360 Cloud Scan Engine, 360 System Repair Engine, and 360 QVMII AI Engine. The antivirus software is bundled with Antivirus, Anti-Malware, and Anti-Ransomware module, and it offers one of my favorite sandbox features.
Sandbox runs an isolated environment to run untrusted programs, preventing any changes to the host system. 360 Total Security download is available for Windows users. The free 360 protection is packed also with Webcam Protection, Keylogger Blocking, Downloaded File Scan, Online Shopping Protection, and Malicious Website Blocking.
You have also access to a variety of tools like registry and file cleaner, document protector, and more.
Is 360 Total Security safe?
360 Total Security is a 100% safe antivirus solution packed with additional features. They are optional so you will not install unnecessary components. You can start the download and use the antivirus software absolutely for free.
360 Full Check

The Full Check option allows users to quickly resolve computer security and performance issues with one click. Use this feature to detect malware, clean registry, remove system junk, bootup speed optimizations, enhance system performance, repair system, and remove the vulnerability.
360 Virus Scan
Virus Scan helps users to find and remove malware threats by scanning system components, files, or selected folder. You can activate and deactivate here antivirus engines, manage quarantined files, Sandbox, firewall, or 360 Ransomware decryption tool with support for thousands of od decryption algorithms.
360 Speedup

360 Speedup can help you to optimize your computer performance and startup time. With just one mouse click the app will optimize system configurations and disable unnecessary startup and background programs.
360 Speedup will scan startup items, application services, system services, autorun plugins, desktop icon cache, file system, network performance, system indexing service and more. You can also manually configure settings to your specific preferences using 360 Speedup.
360 Cleanup
Save disk space and improve computer performance by cleaning unused files with 360 Cleanup.
This module provides tools to scan Windows system junk files, game, and application junk files, junk files created by watching videos and listening to music, cache files generated by browsers, Windows Modern Application cache files, and more.
360 Tool Box
The software offers a module-based toolbox where you can decide what kind of features provided by the software use.
You have access to AirSendit allowing you to send files to mobile devices like iPhone or Android, Game Booster will automatically boost the game performance when lunching, Browser Protection prevents unauthorized software to change browser homepage or search engine, Patch Up installs all system updates, Registry Cleaner cleans registry junks, System Backup Cleaner removes old backups to restore free space, etc.
360 Total Security Premium

360 Total Security Premium is a paid version (about 19 USD) of this great antivirus solution packed with additional features like Desktop Organizer, an advanced desktop assistant to tidy up the messy desktop with one click and keep it clean, Data Shredder to fully destroy deleted files, Privacy Cleaner totally removes your traces, including browser history, program activities, system run history, Firewall with the monitor of bandwidth, and Driver Updater that makes it easy to keep all Windows drivers updated, Disk Analyzer will help you to view what is taking up system disk space at a glance. 360 Total Security Premium also supports themes.
How to use Sandbox?

360 Sandbox can be executed from the system contextual menu. Simply click on an app you like to run in an independent environment with the right mouse button, and select from the options Run in 360 Sandbox. You can also access this feature from the app interface.
You might also like