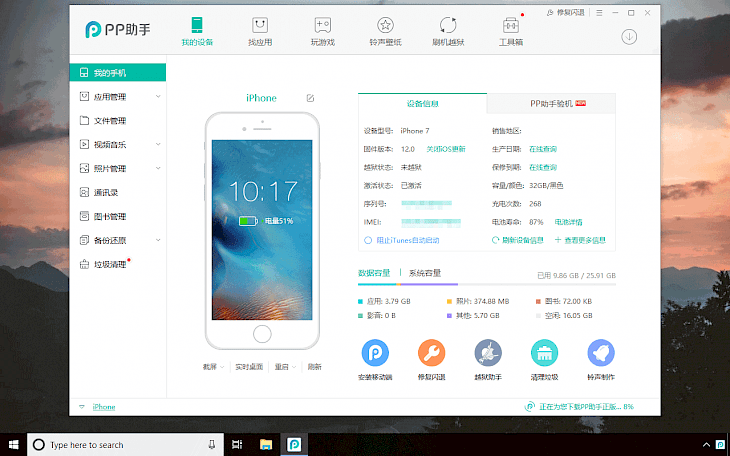 Download 25PP PC

25PP PC was discontinued and it is no longer available for download.
25PP PC (PPHelper) is a freeware software created to manage all Android and iOS devices (including iOS 12). Using this app you can easily install games, create backups, view all files on the device, automatically clean temp files created by software, etc. There is also an option to install apps without using AppStore.
The user interface of the PPHelper app is in the Chinese language. This can be difficult for the most user but, the interface is quite easy to navigate. When you will play with the interface you will fast learn where the options are. Manage not only games, apps, photos, music but also all file system. We offer 25PP download links for Windows and Mac version.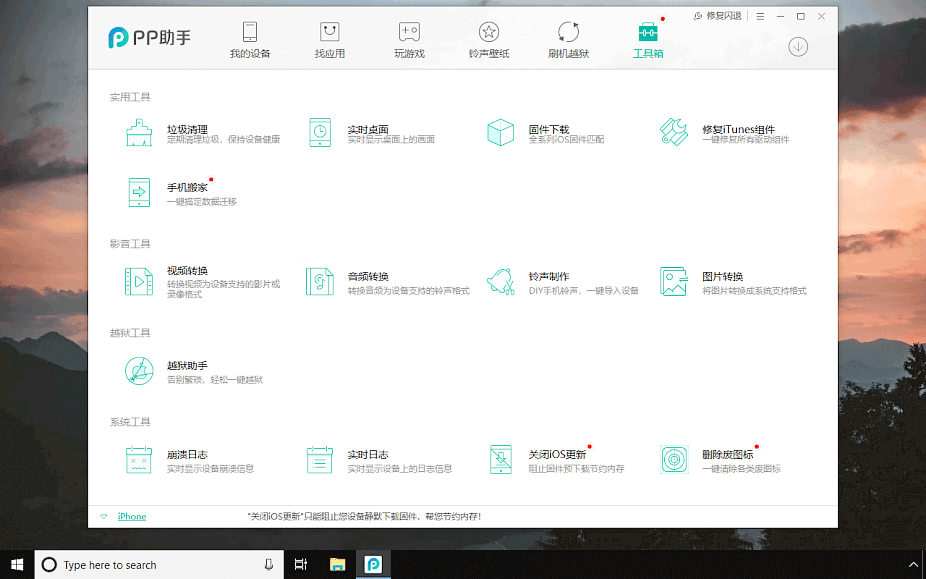 Users can also use PPHelper to recover copies created using iTunes app, find and delete all temp files stored by installed apps and games. 25PP PC scans the device for unnecessary files generated by the software and offers an option to delete only selected one. This option can not only speed up the apps but also the iOS system.
The software offers also an option to install apps and games from unofficial shop PP25. You can use it to download and install apps that are available in AppStore for free. PPHelper allows you to install apps like on iTunes. There is also an option to check the progress of charging your device battery or create a screenshot from the interface.
25PP is a software to download apps and games on iOS and Android for free. 25PP Helper is available for Windows and Mac users. I used it usually to download the newest version of iOS, and clean my iPhone from not used files. 25PP offers also access to thousands of apps that can be downloaded from the Desktop version or using 25PP installed on your iOS or Android device.
25PP Helper offers a lot of options to manage any mobile device. Install apps, download games, create backups, navigate through file system, copy contacts and more. PP Helper offers all of it all. The only thing that can make everyone confused is that 25PP mobile version is called PithyReader.
Like Panda Helper, Tweakbox, Tongbu also 25PP offers the same possibilities. 25PP download is available for PC and iOS. Test it yourself!
25PP menu in English

25PP is available in the Chinese language, but it's not to difficult to understand when you know how to navigate through menu. PP25 offers 5 main features.
1. Manage your iOS device through 25PP Helper.
2. Install apps from Helper.
3. Download games directly to your iPhone.
4. Backup your iOS, download new versions including iOS 12.1.
5. Toolbox offers a lot of tools to manage your iPhone.
How to install PithyReader on iPhone?

To install PithyReader on iOS download 25PP PC available on our software hub. The app doesn't require Jailbreak to work. PithyReader is a free platform to install paid apps for free on iOS thought 25PP.
PithyReader works with all versions of Apple system starting from iOS 8, iOS 9, iOS 10, iOS 11, and ending on iOS 12. To install 25PP PithyReader on iPhone proceed with an illustrated step-by-step guide.

1. Connect iPhone to your PC.
2. Click Install PP on 25PP Helper.
3. After PithyReader is installed on your system 25PP icon will reveal on the Home Screen.
What is the latest version of PithyReader?
The latest version of PithyReader is 2.14.15, which was released on October 18, 2018. The changelog for the newest version of 25PP is not available for this moment.
You might also like