Start Affinity Publisher download now, for free!
What is Affinity Publisher?
Affinity Publisher is a DTP composition program designed to compete with Adobe InDesign. Similarly to other Affinity products, the developer gave us access to the free beta before the release of the stable version. The program has all the tools you need to submit a document for printing or digital publishing.
Creating DTP documents using Affinity Publisher, we can set the paper size, unit of measure and needed margins. By creating and editing a document, you can use well-known tools in the industry - text boxes with effects and rich formatting options, basic tools for editing graphics, vector shapes, hand-drawn curves, tables, transparency, gradients and layer effects.
Elements can be placed on layers, grouped, hidden and reordered. You can also use snap (magnet) to help you precisely align elements on the canvas. Affinity Publisher download is available for Windows and Mac users.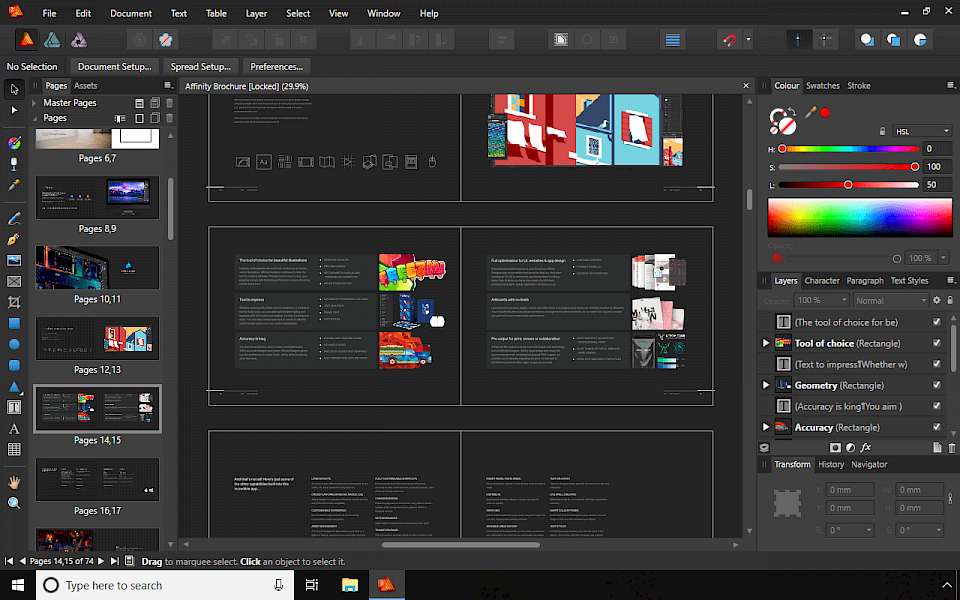 Affinity Publisher can import and export PDF, PSD, various graphic and vector formats. Unfortunately, it dosn't work with INDD format, saved by Adobe InDesign CC, or IDML from older versions.To download the free Affinity Publisher beta you need to register on the developer's website. We will receive the link to the installer after creating an account.
Affinity Publisher download
You can download Affinity Publisher 1.7.0.192 for Windows Mac.
Version history
Affinity Publisher 1.7
It is now possible to select the desired Page Box for a Placed PDF.
Added facility to apply a Master Page to a Master Page.
Snapping is now enabled by default for Publisher from a clean start.
Menus / Toolbars / Studio / Dialogs
(Mac) Fixed issue where installing a font with a dialog open could cause a hang.
Fixed drawing of Layer Panel names containing extended characters.
(Windows) Text Frame description in the Layers Panel no longer expands with text.
Fixed nomenclature inconsistencies in the Pages Panel.
(Mac) Fixed some large UI font issues with Pages UI.
Fix for Style names in Styles Panel not displaying.
New Documents / Import / Export
Fixes for a number of crashes reported when opening pre-157 documents.
Page orientation checkbox could be incorrectly checked.
(Mac) Fixed overlapping controls on Export to TIFF.
(Windows) Fixed issue with Render on 125% scaled screens being 'blurry'.
(Mac) Cursor position not shown on vertical ruler for spreads after first.
Fixed Rasterising an Object so that it no longer clips to the Spread.
Fixed Spelling Checker / Check Spelling as you Type.
Fix for text not aligning correctly with horizontal scaling and tab stop leader.
'Create Character Style' now creates an empty character style if no selection.
(Windows) Edit Text Style Character Variants lower limit now clamped at 0.
Fixed crash when pasting text into multi column frame with Hide Overflow and Text Ruler enabled.
Find and Replace-Re-instated ability to replace with 'nothing'.
Find and Replace-Fixed UI discrepancies between Mac / Windows.
(Mac) Column and row headers were missing for tables not on first spread.
(Windows) Font Manager now displays column resize cursor.
(Windows) Other Font Manager inconsistencies.
Affinity Publisher Alternative
| Software | License |
| --- | --- |
| Adobe InDesign CC create printed books, brochures, digital magazines. | trial |
| Scribus open source desktop publishing. | GNU |