Start WPS Office download now, for free!
Category: Office suites
Version: 2017 10.2.0.7549
Last update: Dec 10, 2018
OS: Windows
License: freeware
What is WPS Office?
WPS Office is a free office suite offering a modern word processor WPS Writer, WPS Spreadsheets spreadsheet and presentation tool WPS Presentation. Applications appearance and functionality not differ significantly from Microsoft Office.
WPS Writer is text editor fully compatible with Microsoft Word. The app offers all the necessary tools to format text, create styles, insert graphics, track changes, add comments, spell check. All files can be edited in one window with support bookmarks. This significantly speeds up work on multiple documents. The application also offers access to a range of templates that you can download from the main window.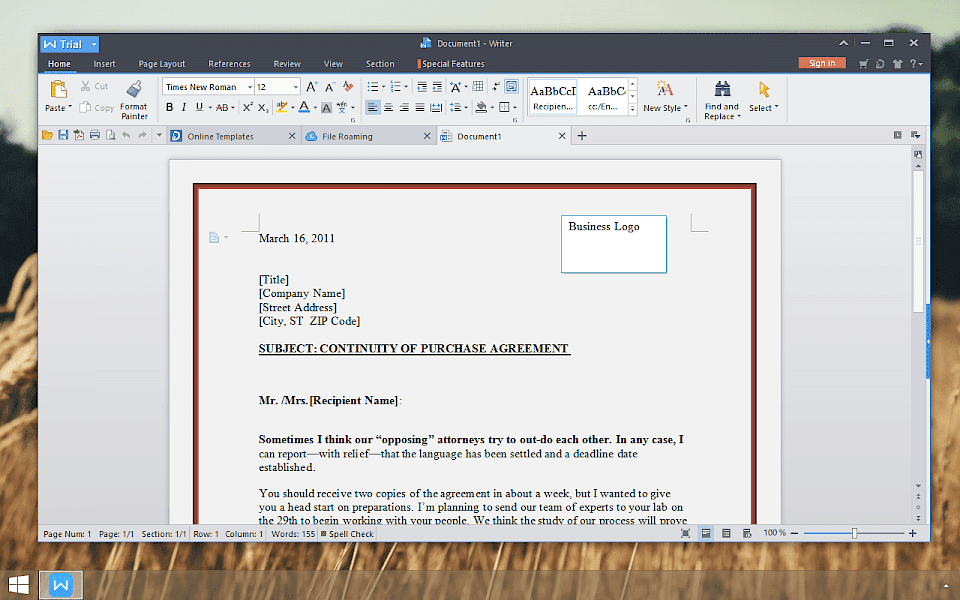 WPS Spreadsheets is a spreadsheet compatible with Microsoft Excel. The app provides more than 160 functions and formulas, the ability to generate various types of graphs, sorting tables according to their own criteria, edit sheets in tabs, select the type of data displayed cells, advanced text formatting in tables and much more. WPS Spreadsheets allows you to create up to 1 million 10 thousand cells and columns. Business Editio version also adds support for VBA Macros.
WPS Presentation is a presentation software fully compatible with a tool for creating Microsoft PowerPoint. The program offers advanced tools for creating text and shapes in projects presentation, the ability to insert images, graphs, tables, audio and video files to your presentation, viewing comments or insert ready-made graphic templates.
After installing WPS Office package works for 30 days in full commercial version. After trial time, the package is automatically converted to the free edition.
WPS Office download
You can download WPS Office 2017 10.2.0.7549 for Windows .
WPS Office Alternative
| Software | License |
| --- | --- |
| Apache OpenOffice free office suite with text editor, spreadsheet, presentation. | GNU |
| Microsoft Office Word, Excel, PowerPoint, Access, Outlook, Publisher. | trial |
| LibreOffice LibreOffice for Windows 10 - free office suite with Writer, Calc and Impress. | GNU |
| WordPerfect Office all-in-one office suite for Windows. | trial |
Articles about WPS Office
Linux with Mac OS look - Deepin 15.4.1 released!