Your search for Windows 8 Antivirus software ends today. Check our list of best free antivirus solutions for Windows 8. Protect your system using a free Windows antivirus from our software hub. Our editors pick for you best free anti-viruses for Windows 8.
When you are using Windows it's a good idea to install antivirus software to protect your system against viruses and other threats. We like to present you list of best free Antivirus compatible with Windows 8. There are eight software that we recommend to our users. Kaspersky Free, 360 Total Security, Avast Free, AVG AntiVirus Free, Avira Free Antivirus, Sophos Home, Comodo AntiVirus, and Panda Free Antivirus. All of them offer good level of protection against viruses and are available for free. You can find download links for every antivirus software mentioned on end of this article.
Windows 8 Antivirus
Kaspersky Free - Windows antivirus based on KAV
Kaspersky Free is a freeware antivirus app offering real-time protection, a mechanism to detect unknown threats, system for offline and cloud service files scanning or checking files and dangerous websites before visiting them. Protect Windows 8 with Kaspersky Free.
Kaspersky Free provides a number of functions that protect the user from threats available on the Internet. Among the most significant options offered in the app is worth mentioning the possibility of unlocking the type of applications of computers infected with Trojan horses, displaying information on the reputation of the Web pages you visit or the function of the Anti-Phishing protects the user from Web sites and e-mails trying to extort confidential data.
360 Total Security - antivirus with great toolbox for Windows 8
360 Total Security is a great software to secure Windows 8 system against viruses, Trojans, malware, etc. This antivirus suite is using four security engines: 360 Cloud Engine, 360 QVMII, Avira and BitDefender. By default, antivirus uses the solutions developed by the developer, another engine can be activated from the main window.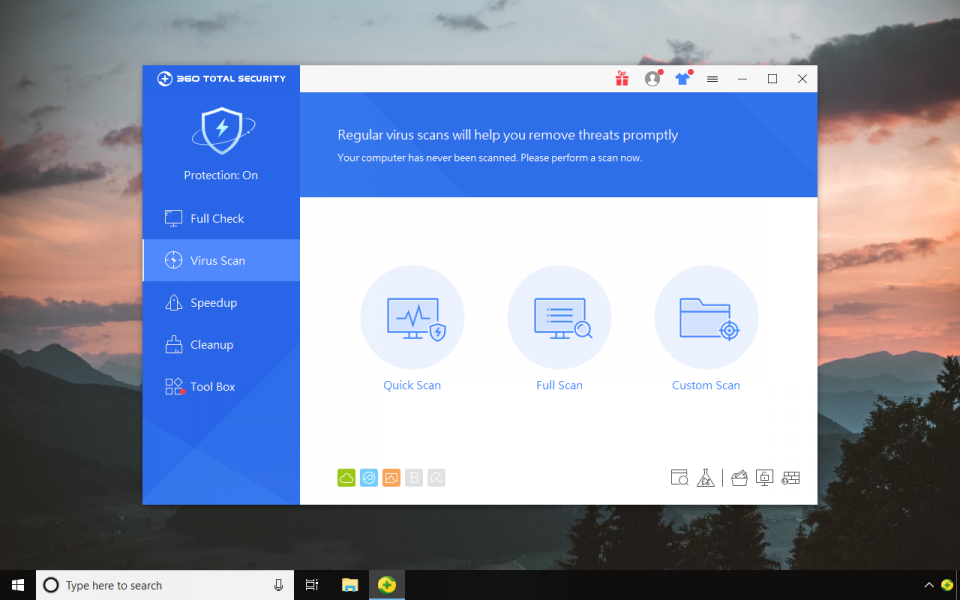 The program offers module to manage system updates and a sandbox feature allowing applications to run in an independent environment without the risk of operating system to fail. In addition, antivirus checks WiFi network for security errors, allows you to quickly scan the system and selected locations. The developer puts on the community and each user application 360 Total Security has an impact on the further development of the package.
Avast Free - popular antivirus solution for Windows 8
Avast Free Antivirus is one of the best free antivirus solutions available on the market for Windows 8. Czech software offers a range of functions responsible for system protection against viruses, hacker, attacks on network devices, data theft from browsers, etc.
One of the most interesting features of the program is smart scan. With a single click, Avast launches all major modules and then generates collective results in a simplified form. When problems are found, you can resolve them quickly. avast! Free Antivirus has also been equipped with a system to detect outdated software that quickly and easily updates the important applications to improve overall security and status of the computer. In addition, avast! Free Antivirus offers a module responsible for cleaning browsers. It removes annoying toolbars or extensions of browsers and recovering replaced by the search engines.
AVG AntiVirus Free - protect Windows 8 against viruses
AVG AntiVirus Free is one of the most popular free antivirus apps available on the market. The program detects viruses, spyware, and other components threats and prevents them from entering the system. AVG AntiVirus Free works with Windows 8.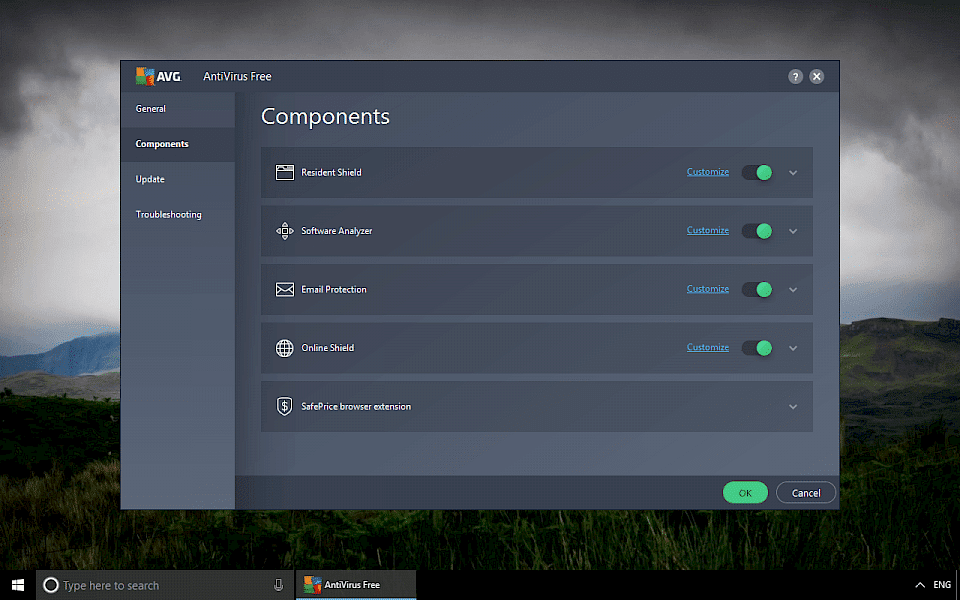 Antivirus operates based on modules AntiVirus, AntiMalware (AVG Resident Shield), AVG Anti-Rootkit AVG Email Scanner, AVG Protective Cloud Technology, AVG Community Protection Network, AVG LinkScanner Surf-Shield and AVG Social Networking Protection. Additional modules protect the e-mail and incoming attachments, can detect rootkits pests hiding in the drivers and popular programs scan links in browsers displaying information about false and dangerous sides and allow the community to send information about the risks.
Avira Free Antivirus - Windows 8 free antivirus software
Avira Free Antivirus is one of the most popular free anti-virus solutions to protect your system against threats such as viruses, worms, trojan horses or spyware components. Download Avira Free Antivirus for Windows 8.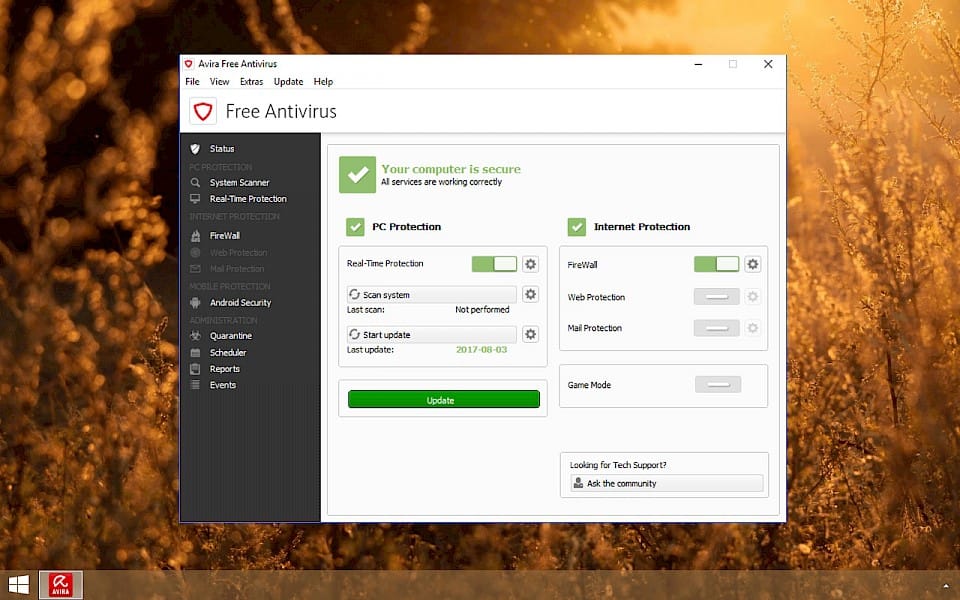 The application is equipped with a powerful engine to prevent the system from threats, you can also scan selected files and folders on demand, and the detected infections transferred to the quarantine module. Avira Free Antivirus allows you to scan your system planning processes, view detailed reports on detected threats and creating white lists for selected files and applications.
Sophos Home - stop malware, viruses, ransomware, and malicious apps
Sophos Home protects Mac and PC in your home from malicious software, dangerous websites and all kind of viruses. You can manage security settings for the whole family from a simple and intuitive browser interface. Download Sophos Home antivirus for Windows 8.
Sophos Home keeps viruses at bay, stops malware from slowing down your computer, and helps prevent unwelcome hackers from gaining access to sensitive personal information. Antivirus protects you also from online threats and unsuitable content. With just a few clicks, you can block access to sites that may contain inappropriate content or malicious software. Security setting are available from a browser interface. You can manage all computers when you will log in to simple web dashboard from poplar browsers like Microsoft Edge, Microsoft Internet Explorer 10, Apple Safari, Google Chrome and Mozilla Firefox.
Comodo AntiVirus - prevention based security with sandbox technology
Comodo AntiVirus is a completely free antivirus software which detects, blocks, and removes malicious software from your system. The program is equipped with a sandbox and intrusion prevention system (HIPS). Download Comodo AntiVirus for Windows 8.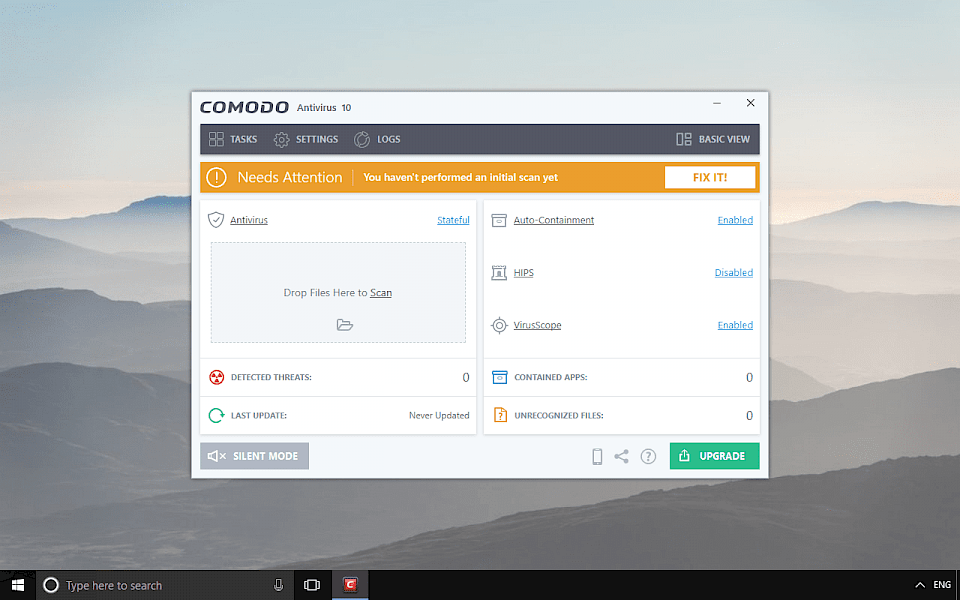 Realtime scan enables virus scanning when the system is used and prevents thread before they enter your system. Comodo AntiVirus offers also a scanning optimization function that activated boost the performance for scanning. HIPS enables the Host Instruction Protection System, the component that monitors critical operating system activities to protect the computer against malware.
Panda Free Antivirus - Windows 8 light antivirus solution
Panda Free Antivirus is a free version of anti-virus app providing Windows 8 with basic protection from viruses, Trojans or malware components. The program offers features such as a monitor processes, USB vaccine, and a module to create a rescue disk.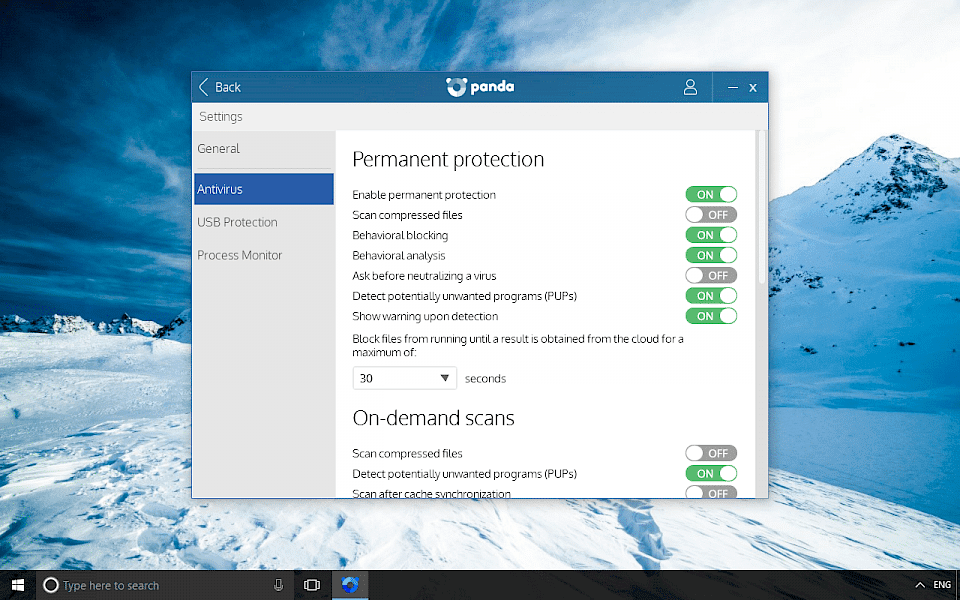 The program offers basic function to protect the system against all kinds of threats. Panda Free Antivirus is equipped with a fast scanner that analyzes launched processes and open files on the fly. The user can also select to scan files on demand. In the case of detecting threats Panda automatically moves infected files to quarantine module. Moreover, Panda Free Antivirus features monitor the processes responsible for analyzing running applications and blocking malicious software, and a mechanism for creating a rescue disk which allows to remove viruses from an infected system.