If you have been following the developments in the jailbreak community, then you must know that the past few weeks have been slightly crazy. We had checkra1n jailbreak that was updated to support iOS 14.1-14.2 and A10 (X) devices. That's not all though, there was also an exploit PoC that targeted iOS and iPadOS 13.x which was released. Moreover, FreeTheSandbox assured the users that they are going to release a jailbreak soon in the future with support for iOS and iPadOS 13.5-13.7.
However, the groundbreaking news in the jailbreak community is that a super talented security researcher Liang Chen showcased a jailbreak running perfectly on iPhone 12 Pro that has iOS 14.2. Why is this such an impressive feat? Well, because this happens to be the latest firmware that is available to the public at this time.
This news was first tweeted on 13th November and includes a video demo where a jailbreak app named 'iOS14Jailbreak' is being used to show how it works on the latest firmware. It was first tweeted by POC, Zer0con, and MOSEC hacking and security conference Vangelis and then later retweeted by Singular Secular Lab where Cheng accomplished this feat.
When Chen tapped the app, a user interface with a Singular Secular lab brand and a generic Jailbreak button appeared on the device. Upon clicking this app button, the app went ahead with the process of jailbreaking the device and it took barely a full minute for the full process to get completed. Once the task was completed, a terminal window opened on the side to confirm that the root access was accomplished after the jailbreak app was deployed on the device.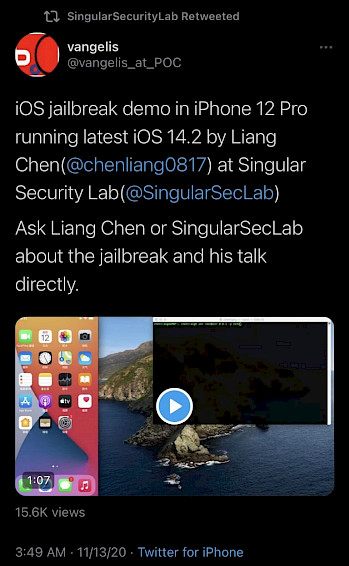 We all know that iOS and iPadOS 14 are highly secure and extremely tough to jailbreak. Yes, checkra1n is capable of jailbreak into a few of these devices but the list is definitely smaller in comparison to the number of iOS & iPadOS 13 devices that it supports. Well, this doesn't mean there is a problem with the jailbreak apps. It is just that Apple improved its security against such tampering apps in their latest firmware release. As a result, it took the checkra1n team almost a month to achieve jailbreak on A10 devices but they might not be able to produce a similar solution for A11 handsets such as the iPhone 8, 8 plus, X, and so on.
So, seeing how extremely secure iOS 14 and iPadOS14 are, we cannot deny that Chen's accomplishment is celebration-worthy. Cheng is extremely skillful as can be seen by his achievement in jailbreaking iOS and iPadOS 14.2 that are the latest and most secure firmware. That's not all, he was able to achieve this task in iPhone 12 which is the latest device in Apple's lineup so this feat is even more impressive.
Chen is an accomplished security researcher and this is certainly not the first time or the last time that we are witnessing his amazing hacking skills. However, Chen doesn't usually release his work to the general public so there is a chance that this might be kept for internal testing purposes only. Whatever may be the case, it is still reassuring to know that it is possible to jailbreak iOS and iPadOS 14 devices as well.
So, what do you think about this accomplishment? Are you impressed by Chen's skills too? Let us know in the comments!
You might also like