Screenwriting and scrip writing software used in Hollywood
kuba - Wednesday, 12 December 2018
If you like to start writing novels, short stories, scripts, screenplay or journalistic articles you need to be organized. Read our list of best screenwriting software and scrip writing software used by professionals and top productions companies.
To create a novel you can use any text editor, but if you will hit 40k words with missing chapters or scenes, you will need to struggle with yourself to finish. This is the main reason most witters can't finish their work. Using the right screenwriting software your work will be organized and you will have an option to work on each of part of your project separately. You can write novels using using free or paid software and our list include both.
Screenwriting software
Final Draft - screenwriting software
Final Draft is a scriptwriting app for professional film writers and producers, as well as authors of novels, short stories and journalistic articles. Test version of the application does not offer the possibility of saving and printing PDF files. Final Draft is also available in a special version for iOS.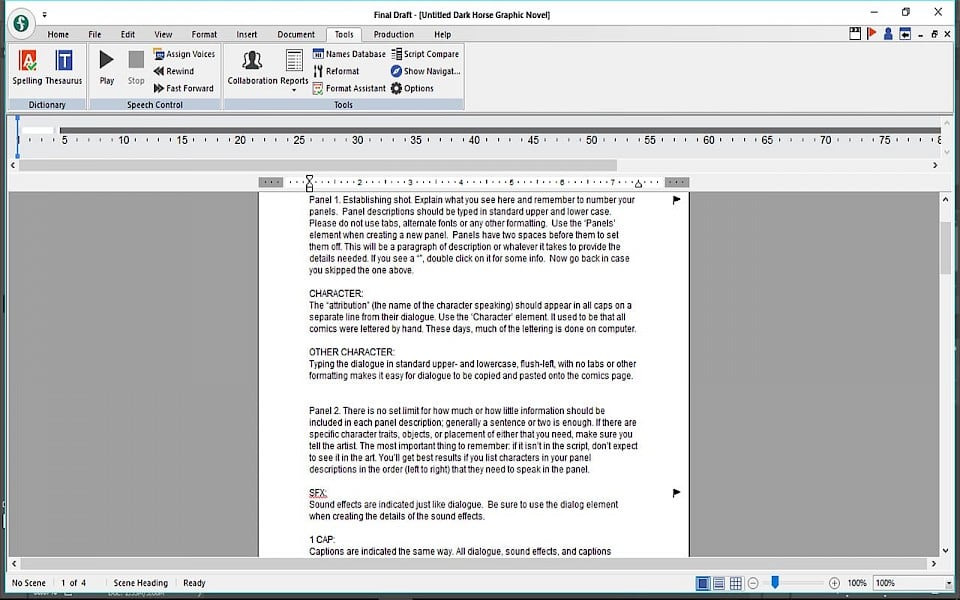 Editor is fully professional application designed for writing screenplays, documentaries, tv shows scenarios, theatrical performances, etc. Final Draft is used by such personalities as James Cameron, Tom Hanks and JJ Abrams. The application has been equipped with over 100 predefined templates that contain fragments of scripts, screenplays and other types of texts.
yWriter - script writing software
yWriter is a free word processor designed to help writers to create books. This text editor breaks your novel into chapters and scenes, characters, locations allowing you to arrange your writings and manage big projects.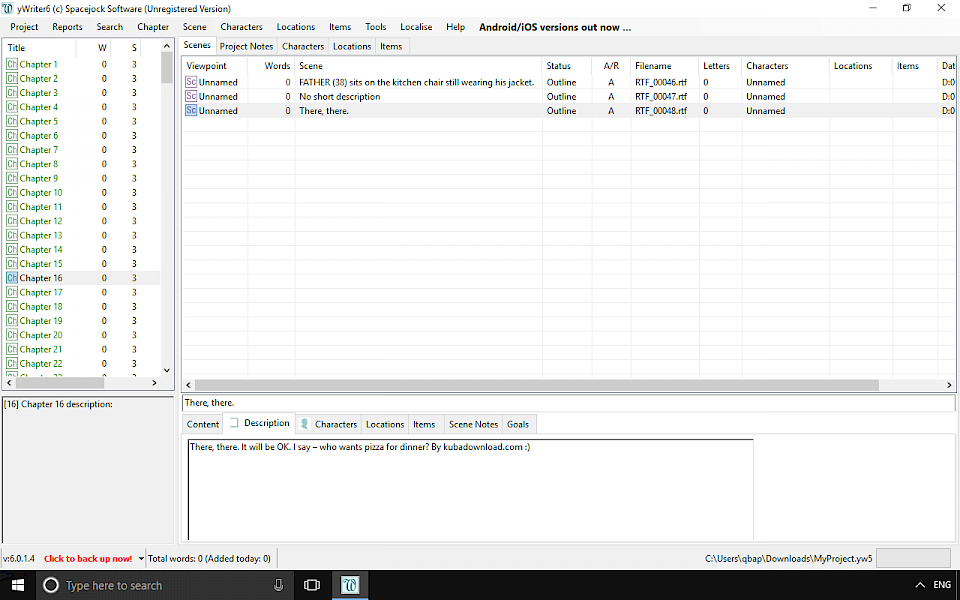 Using yWriter you can create scenes and chapters, save notes, manage character database with information including name, characters description, dialogs, attached photos etc. Other features include organize novel using a project, add chapters to the project, display the word count for every file in the project, along with a total, saves a log file every day, showing words per file and the total, allows multiple scenes within chapters, multiple characters per scene and more.
Fade In - screenplay writing software
Fade In Professional is a screenwriting software used by professionals writing for motion pictures, television, video games, the stage, radio, and more. Fade In Professional offers tools for outlining, organizing, and navigating, plus extensive screenplay formatting and robust tools for managing rewrites and revisions.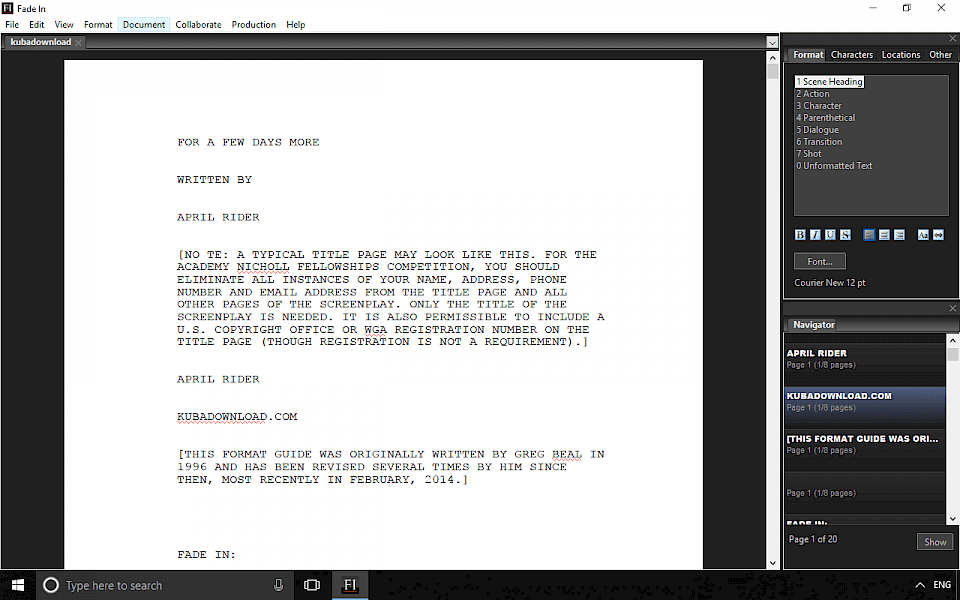 The software takes care of script formatting for you, automatically transitioning from scene headings to action to dialogue as you type. It includes a full range of standard screenplay styles. Use the built-in default styles, customize them, or create your own. Control all aspects of page layout and appearance, and even tweak individual line lengths with a single keypress. Fade In keeps track of the character names and locations you use and can provide as-you-type autocompletion suggestions. The lists of characters and locations can be customized, sorted, and rebuilt.
Trelby - free script writing software
Trelby is a free screenwriting software for Mac and Windows. You can use it to write screenplays, documentaries, tv shows scenarios, theatrical performances, etc. Trelby follows automatically screenplay formatting guidelines and helps you write your story quicker.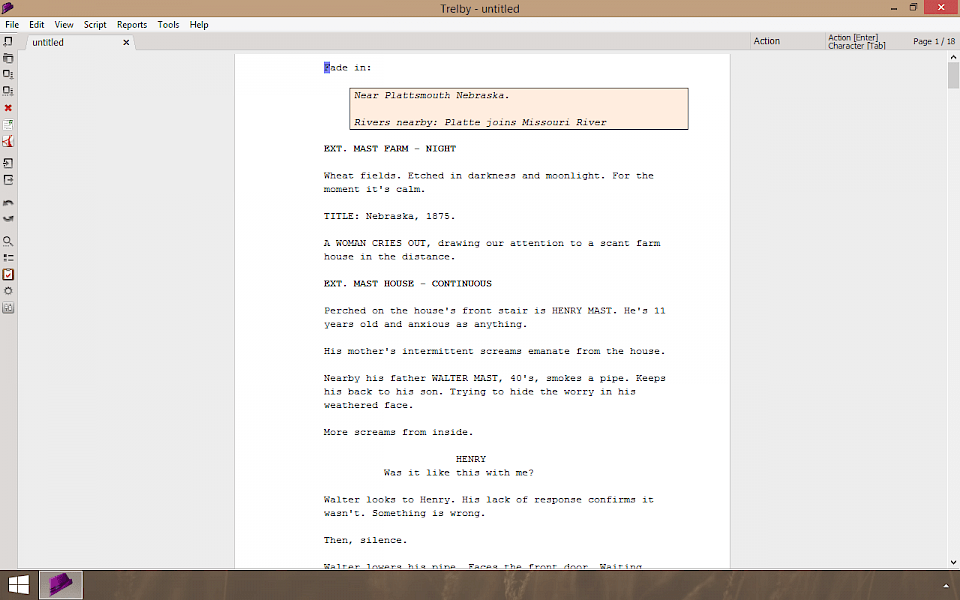 This screenwriting software features multiple writing modes, including a fullscreen mode that will hide away all other distractions from your screen, bells and whistles like spell-checker, and a worldwide character name database. Trelby even checks for screenplay formatting errors in the script. It allows you to control every aspect of the program. From defining what [Enter] and [Tab] do, to what screen elements are shown in print, to the font and interface colors.
Script Studio - screenplay software
Script Studio is a screenwriting software with all features for screenwriters, playwrights, and novelists. Script Studio can handle the pagination and layout via Tab and Enter keyboard shortcuts and auto-complete which suggests character names and scene headings.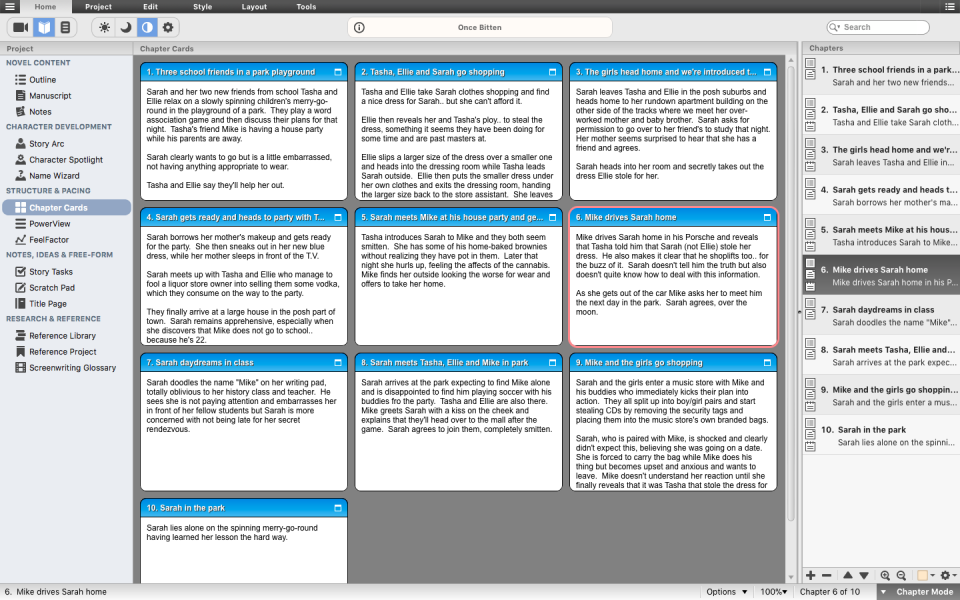 Break your story down into key sequences so you can plan and build your script or novel step by step, chapter by chapter or scene by scene, allowing you to maintain your creative flow while structuring your narrative. Customize your story structure into color-coded acts, drag-and-drop steps and virtual "index cards" to re-organize your narrative, and refer to sample templates which many Hollywood blockbusters are based upon. Use the integrated dictation tool to act as a middle-man between your dictation software and Script Studio so you can not only input text via your voice but also easily navigate Script Studio's views, menus and features.
DramaQueen Free - scriptwriting software for Windows
DramaQueen Free is the basic version of DramaQueen screenplay software. Free version offers substantial advantages over other popular scriptwriting software like Final Draft and Celtx. DramaQueen test version automatically transforms to Free edition.
With DramaQueen Free you can import and export Final Draft documents with all their formatting. DramaQueen transfers all text elements from and to Final Draft including Characters, Locations, Script Notes, Scene Titles, and Scene Summaries. DramaQueen Free users can work effortlessly together with Final Draft users. You can also export all texts into PDF, Word, Final Draft, TXT, RTF, while preserving the formatting, or use SmartType feature allowing you to auto-completion of characters and locations while typing.
Scrivener - scriptwriting software
Scrivener offers all tools to write, research and arrange long documents in a single app. Break your text into manageable sections of any size and leave Scrivener to stitch them together. Integrated outlining tools let you plan everything first or restructure later.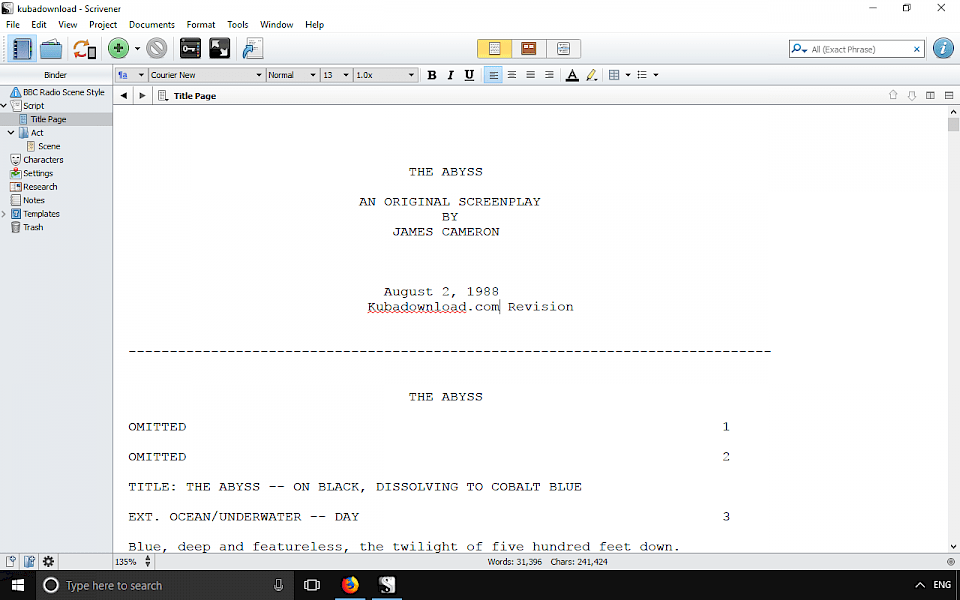 Working on a long text is easier when you break it into smaller pieces, and Scrivener gives you complete control over how small those pieces are. Novelists can write each scene in a separate document, or whole chapters as one. Scrivener automatically saves while you work, before embarking on a major revision, take a "Snapshot" of a section and you'll be able to return to the earlier version. Compare text side by side to copy and paste selections if you don't want to restore the entire copy.