Messenger++ app is the most popular modification for Facebook's messaging service. The tweak improves the Facebook Messenger interface, adds new features, and brings the privacy settings to the next level. Download Messenger++ for iOS 13 and install the app on your iPhone, iPad, and iPod.
---
What is Messenger++?
Messenger app can be used to communicate with your friends without the need to create a Facebook Account. Unfortunately, the privacy level provided by FB isn't great. Messenger++ hack, created by UnlimApps, add better privacy setup and some useful features to the original Messenger app.
Discover how to download Messenger++ hack.
What are Messenger++ features?
Stealth mode
Disable Read Receipts
Disable Typing Receipts
Disable FB Analytics
Disable VoIP
Show timestamp for every message
Download photos and videos
Messenger++ integrates with FB Messenger. From the Settings app, you can easily switch between light and dark mode, disable notifications and sounds, switch between different accounts, activate secret conversation that offers encryption between two devices.
Additionally, using the messenger service you can share your stories, send voice messages and photos to friends, play multiplayer online games, create video and audio calls, and more.
Messenger Lite is a smaller app (ca. 10 MB) with the option to send text messages (individuals and group), make calls and video chats, send photos and voice messages, see when the messages were read, and contact anyone, with or without a Facebook account.
The full version of Facebook Messenger app (ca. 40 MB) adds the option to send videos, create video chats, add filters, masks, and effects to your video chats, watch stories, send payments, play games with friends, and customize your messaging experience with colors and nicknames.
Download Messenger++ for iOS
Please note that Messenger++ tweak isn't associated in any way with Facebook Messanger. The modification is 100% secure to use, and you can login using your main account. Install the tweak from Cydia Sources. To add Messenger++ Repository to your list follow our step-by-step guide.
The ++ mod is available only for jailbroken devices and there is no option to download IPA file and sideload the app using Cydia Impactor. How to jailbreak iPhone on iOS 12.
Step 1. Install Messenger from the AppStore.
Step 2. Open the Cydia app on your device.
Step 3. Tap Sources → Edit → Add the UnlimApps repo to Cydia.
Step 4. Switch to Search Tab and enter Messenger++.
Step 5. Tap the Install button to download (20 MB) the app.
Step 6. Respring your device.
Step 7. Open Messenger++ app and login to your account.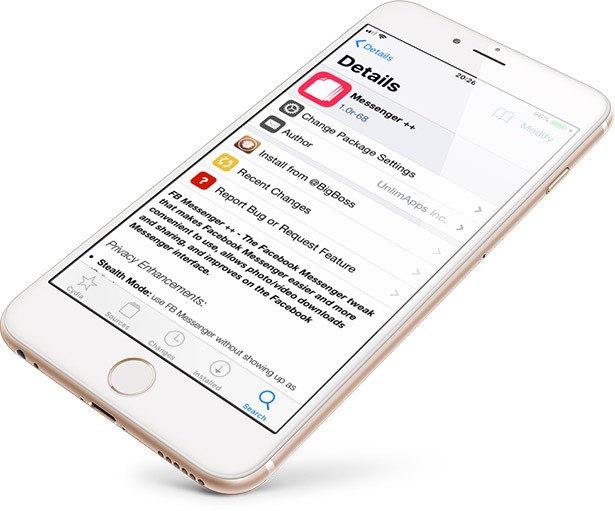 Messenger++ hack adds few privacy enhancements that should be available in the app by default. Use FB Messanger without showing as "Online", deactivate read receipts and hide read notifications from your friends, don't show typing notification, and disable Facebook Analytics to spy on your activity.
Moreover, the modification allows you to download and share photos and videos, disable VoIP calls, always show return to Facebook, and use iOS Activity Sheet to Share Media. Activate Full-Screen Mode, disable Invite to Messenger, and show message source icon.
From UnlimApps Repositories you can download also other ++ app modifications. There are available tweaks for Instagram, Chrome, Facebook, Gmail, Musical, Telegram, Twitch, and others.
Changelog
Version 1.0r-68
Version 1.0r-65
Fix crash on latest Facebook Messenger
Version 1.0r-64
Now works with latest uasharedtools
Version 1.0r-63
Version 1.0r-47
Messenger No Ads Tweak
Messenger No Ads is a new open-source jailbreak tweak removing ads and adding new features to the Facebook app. Remove Ads, disable Read Receipt, Typing Indicator, and Story Seen. Save friend's story, hide Search Bar (iOS 12), hide Stories Row and People tab. Works on iOS 11, 12, 13.
The tweak works on both unc0ver and checkra1n jailbreak tools running on iOS 11 - iOS 13. To add Messenger No Ads Repository to your list of Cydia Sources follow our step-by-step guide.
Step 1. Open the Cydia app on your device.
Step 2. Tap Sources → Edit → Add the official Messenger No Ads Repo.
Step 3. Switch to Search Tab and enter Messenger No Ads.
Step 4. Tap the Install button.
Step 5. The tweak can be configured from Settings → Messenger No Ads.
You might also like