Lego Mindstorms programming software
kuba - Tuesday, 27 February 2018
If you start coding your Lego Mindstorms, the EV3 Software provides a great introduction to programming, but sooner or later you will need more control about the code. One of the available options is to use a text-based programming language, such as RobotC.
Playing with robots can be much more exciting than building Lego from bricks. Lego Mindstorms EV3 can be programmed not only to do some basic moves, but also more advanced projects like Lego Mindstorms Printer, Lego Mindstorms Rubics Cube solver, Lego Mindstorms Playing the Guitar, or Lego Mindstorms T-Shirt-Foldingmachine.
The possibilities are limitless. To start you definitely need to use an icon-based software EV3 Software by Lego Group. More advanced project can be created with RobotC.
There is also an option to execute Basic language code on Lego Mindstorms EV3 or even install Debian Linux to provide your favorite programming languages and libraries.
Lego Mindstorms programming software
EV3 Software - icon-based software to program robots
EV3 Software is an icon-based software to program your Lego Mindstorms robots. The software is available for PC or MAC and allows you explore the magic of making your robot do whatever you want it to do.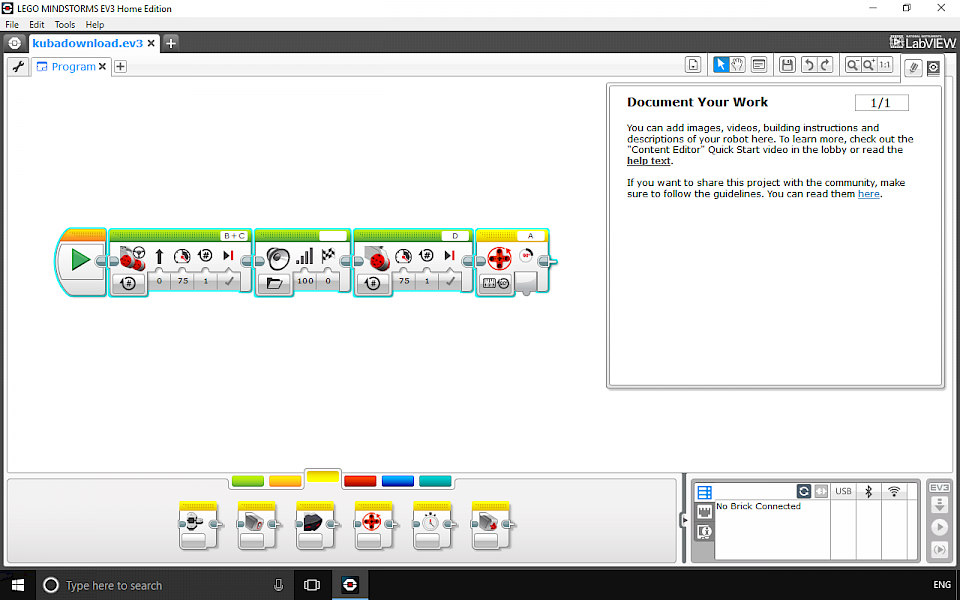 Use the EV3 Programming tool to build a program for your robot and bring it to life. Make your robot move with the EV3 motors. Make your robot respond to touch with the EV3 touch sensor. The touch sensor makes your robot react when you push or release sensor in front.
Create a program that makes your robot drive the way you want it to. Combine the blocks to explore the magic of bringing your robot to life. Lego Mindstorms EV3 Software is based on verity types of blocks that can be connected to control the behavior of your robot.
RobotC for LEGO Mindstorms - advanced programming tool for EV3
RobotC for LEGO Mindstorms is a powerful C-based programming language for writing and debugging programs, with fully integrated software debugger allowing to step line by line through program execution and analysis of all variables.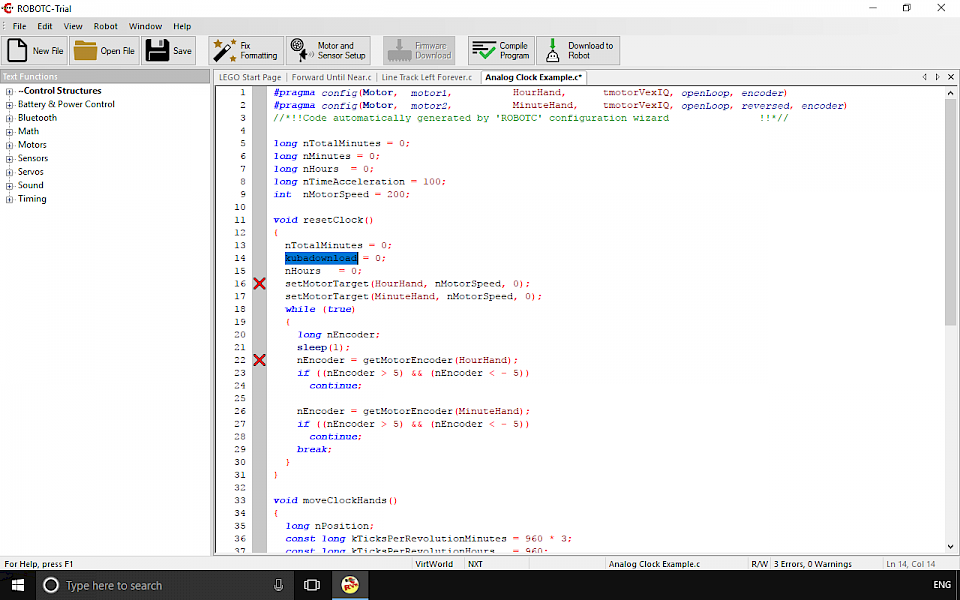 Using the software you can learn the type of c-based programming used in advanced education and professional applications. LEGO Mindstorms RobotC uses the industry standard C-programming language and additional language extensions specifically for robotic use.
It offers over 100 sample programs with extensive documentation so students and hobbyists can start learning how to program. RobotC includes an advanced source code editor with smart indenting, automatic code competition, and a tabbed interface to allow multiple programs to be open at the same time.
EV3 Basic - execute Basic language commands on LEGO Mindstorms
EV3 Basic is an easy-to-use development environment where you can build and run programs that control the EV3 Robots. This programming language and development environment are intended as an easy way to use text-based programming for the Lego Mindstorms. EV3 Basic was specifically designed to get things running quickly and should help novice programmers to get their first experience. To develop programs for the EV3 you can use Microsoft Small Basic together with the EV3 extension. With this, you have an easy to use development environment where you can build and run programs that control the EV3 brick from your PC.
ev3dev - install Linux on LEGO Mindstorms
ev3dev is a Debian Linux-based operating system that runs on several LEGO MINDSTORMS compatible platforms including the LEGO MINDSTORMS EV3. This reverse-engineered EV3 software platform for programming your robots allows you to program how you want. It offers a low-level driver framework for controlling sensors, motors and almost everything else.
ev3dev supports many popular scripting languages out-of-the-box, and you can start right away with your favorite language and libraries. There are over 43,000 free software packages available for you to install on ev3dev, and you can add support for USB and Bluetooth devices, like Wi-Fi dongles, cameras, keyboards, keypads, joysticks etc.