iPABox is a free App Store platform allowing you to install some hacks, paid apps, emulators, and ++ tweaks that allow you to unlock many features for free and without a computer. Like all other stores also this AppStore uses a developer certificate to sign apps and it can be easily revoked by Apple.
---
What is iPABox?
iPABox is a free and ad-supported platform from where you can install signed IPA files directly on your device. Access tweaked and modified apps like Spotify++, YouTube++, Deezer++, Whatsapp++, YouTube Music++, and others including MediaBox HD, ZiniTevi, FilzaJailed, iTransmission, ToonsNow, etc.
Moreover, the unofficial AppStore is packed with paid apps and games that you can download for free. iPABox includes also some popular jailbreak tools like unc0ver, Electra, Yslu102, Phoenix, g0blin, and Th0r. The app is safe to use and the only downside is a ton of ads displayed inside the store.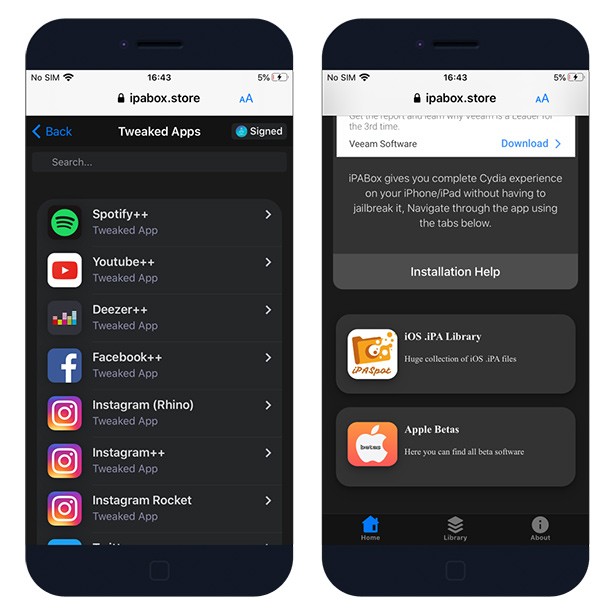 When apps are revoked, and the app will not open or install is 100% related to the certificate revoked by Apple. There is no fix for this situation on non-jailbroken devices. The only option to fix this issue is to reinstall all apps with a valid certificate. The publisher is updating frequently apps that are revoked.
iPABox offers some basic options. Of course, you can search for a specific app or navigate through categories like jailbreak tools, paid games, tweaked apps and more. In Settings, you can easily switch from dark to light mode. Remember to support your favorite publishers, and buy apps.
Is iPABox safe?
iPABox for iOS is a free and absolutely 100% safe to use App Store. It doesn't require Apple ID to work, it will not spy your activity. You can install the app without a negative effect on the iOS system. More information about the free app store can be found on the official website.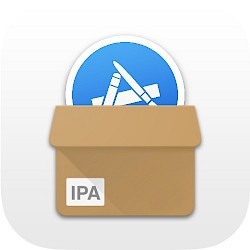 How to install iPABox
iPABox works on both Jailbreak and non-Jailbreak devices running iOS 13. Same as all other free app stores, all apps are signed using an enterprise certificate, that can easily get revoked too.
Step 1. Tap on Install iPABox from Safari browser.
Step 2. Tap Install on message prompt "ipabox.store would like to install iPABox ".
Step 3. iPABox app Icon will appear on your Home Screen.
Step 4. Navigate to Settings → General → Device Management.
Step 5. Find the newly installed Enterprise App Certificate and trust it.
Step 6. Run iPABox app.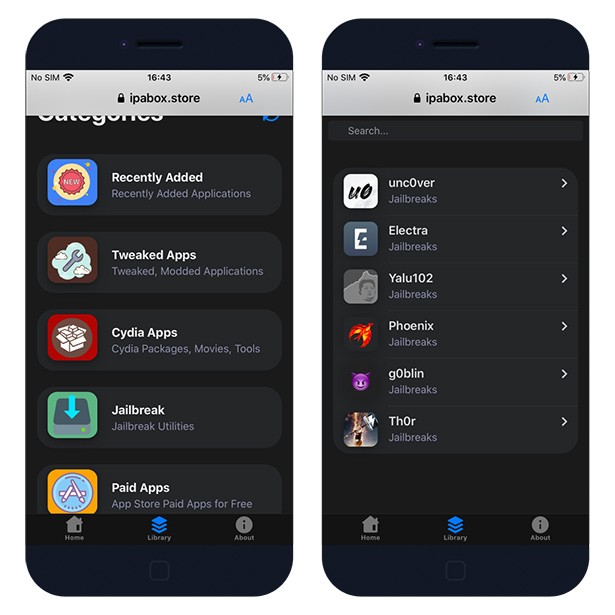 iPABox IPA Library
Additionally, iPABox offers access to the library of popular apps that you can download as IPA packages and sideload the files manually on your iPhone with one of Cydia Impactor alternatives for Windows or Mac OS. Access IPA files of PopcornTime, Instagram++, Snapchat++, and many others.
AltStore resigns apps with your free development certificate and sends them to the AltServer app, which installs the resigned apps back to your device using iTunes WiFi sync. To prevent apps from expiring, AltStore can refresh in the background apps when using the same WiFi network.
Step 1. Install AltStore app on your device.
Step 2. Download iPABox IPA package and save it to iCloud.
Step 3. Navigate to "My Apps" section in AltStore app.
Step 4. Click the + button to sign and install IPA file.
Step 5. Select the IPA package downloaded from iPABox IPA Library.
Free iPABox alternatives for iOS
When you are using jailbroken iOS there is a new Anti-Revoke hack (by stem grade) that allows you to enable anti revoke on all apps installed via AppStores like iPABox, Panda Helper, AppValley, TweakBox, TopStore, Tutuapp, making them a great alternative to AppCake.
1. CyrusHUB
CyrusHub Mist is a new platform to install apps, tweaks, emulators, jailbreak tools on your iPhone, iPad, iPod devices without jailbreak. You can find here a few packages available in Cydia Repositories and install them on iOS 12. No computer required.
2. Ignition App
Ignition App is a great alternative store with access to tweaked applications, hacked games, emulators, and popular jailbreak tools for iOS devices. The app is compatible with iOS 8 - iOS 12, and you can install it on your device without a computer. No jailbreak required to install it on an iPhone.
3. Panda Helper
Panda Helper is a great iPABox app replacement offering access to paid games and apps for free. Install the app store market on your iPhone without a computer. Navigate through categories, download apps, game modifications, jailbreaks, emulators, and more.
4. AppValley
AppValley is a free 3rd-party store that can be used to download and install games and apps on mobile devices for free. The platform supports the iPhone's, iPad's, and Android devices. Using the free platform you have access to AppStore paid apps and games without charges.
5. TopStore App
TopStore App can be compared to the iPABox app. It's compatible with the latest iPhone XS and iPhone XS Max, and as other mentioned App Stores, also TopStore doesn't require Jailbreak, or Apple ID to work. Download cracked applications for free and install them on your iOS device.
6. AppCake 7
AppCake the free platform for iOS devices allowing you to install unsigned IPA files. The free App Store is packed with premium games and applications that can be download without the need to pay for them. The store is developed by iPhonecake and provided by iPASTORE.
7. Tongbu Tui
Tongbu tui is a free platform to install paid apps for free on iOS 8, iOS 9, iOS 10, iOS 11, and the newest iOS 12. The developer offers access to Tongbu tui Free and Tongbu tui VIP edition that includes exclusive hacks and apps. The software is compatible with the newest iPhones and iPads.
8. iOSGods
iOSGods App is a free AppStore with access to cracked applications, and lots of game hacks for iOS. The platform is focused on game hacks and modifications allowing you to cheat and activate special features in games like additional money and lives, unlock weapons or infinite ammo, and lot more.
9. CokernutX
CokernutX offers more than 5k+ programs and games. This is a great alternative for iPABox and other apps mentioned in this list. CokernutX works with iOS 7, iOS 8, iOS 9, iOS 10, iOS 11, and obviously with Apple's iOS 12. All non-jailbreak devices are supported.
You might also like