Where can you find cracked apps for iOS that you can install safety on your iPhone, iPad, or iPod Touch? We provide for you a list of the best Cracked Apps Stores 2020 for the dark side of the Force. Download paid games, applications, utilities, hacks, crack for free directly on your device.
---
All AppStore alternatives can be installed on your iDevice without a computer or the need to jailbreak your device. As in the original app, they offer access to a list of apps and games from where you can navigate through categories or use the search feature to find your desired application.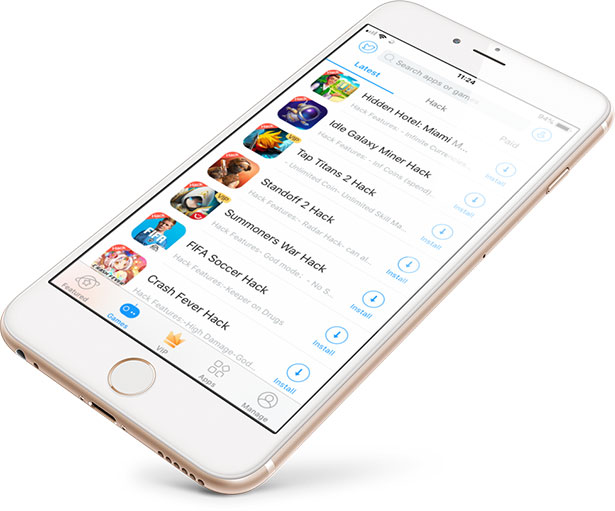 A cracked app is basically a modified version of a paid application allowing you to download and use it for free. Game hacks usually activate additional features in games allowing users to cheat. We share our ultimate list of 11 best Cracked App Store for iOS in 2020 that you can install for free.
How to install cracked apps
To install cracked apps on your iOS device is required in the first place to download your favorite AppStore alternative. It is really easy to do, and in most cases, it requires to install a developer certificate in Setting app. We will guide you on how to download cracked iOS apps without jailbreak.
Step 1. Open the Store from your Home Screen.
Step 2. Click Install to start the installation process.
Step 3. Confirm the message "api.xxxxxx.com would like to install" to start.

Step 4. Now you can use the app.
Step 5. Add the certificate to trusted from Settings → General → Device Management.
When an installed app isn't working it's probably because you need to add an additional certificate to trusted and repeat Step 5. If this doesn't work probably all installed apps will crash. This is related to certificate revoke. To fix this issue it's required to reinstall the store and all installed apps.
We provide you with more detailed information about App Markets, including install instructions, features list, screenshots, and more below in the description. Navigate through our list of 2019 best App Stores for Cracked Apps on iOS and choose your favorite application.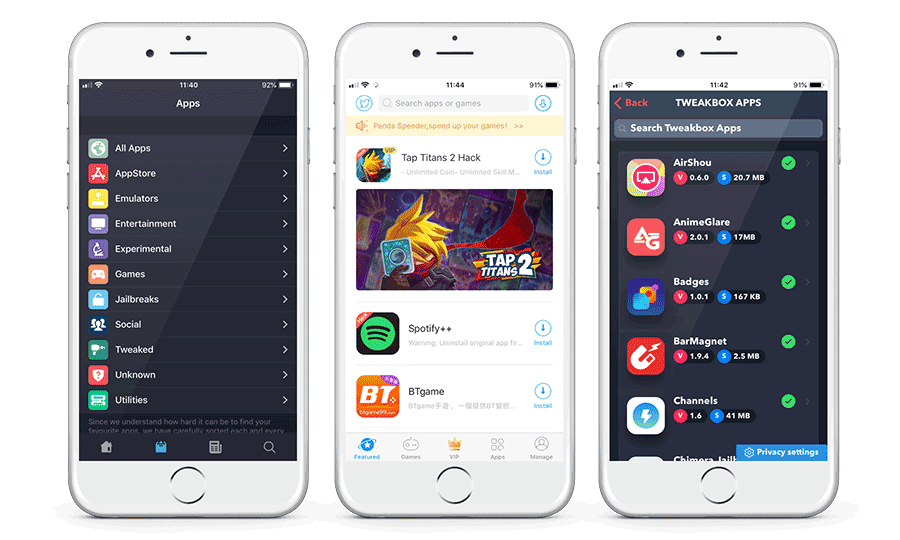 What are best Cracked App Stores 2020?
1. PandaHelper App Store:
Panda Helper is a great App Store offering cracked apps and access to paid games and apps for free. Install the app store market on your iPhone without a computer. Navigate through categories, download apps, game modifications, jailbreaks, emulators, and more.
Store URL: https://www.pandahelp.vip/
2. TweakBox App Store:
TweakBox App is one of the best AppStore alternatives available on the market. The team behind the store regularly updates apps, games, hacks, tweaks, and jailbreak tools allowing you to install them on your iDevice without a PC. Moreover, download cracked apps for free without jailbreak.
Store URL: https://www.tweakboxapp.com/
3. AppValley App Store:
AppValley is a free 3rd-party store that can be used to download and install games and apps on mobile devices for free. The platform supports the iPhone's, iPad's, and Android devices. Using the free platform you have access to AppStore paid apps and games without charges.
Store URL: https://app-valley.vip/
4. Ignition App Store:
Ignition App is a great store with access to tweaked applications, game hacks, emulators, and popular jailbreak tools for iOS devices. The app is compatible with iOS 8 - iOS 12, and you can install it on your device without a computer. No jailbreak required to install it on an iPhone.
Store URL: https://ignition.fun/
5. CokernutX App Store:
CokernutX offers more than 5k+ cracked programs and games. This is a great alternative platform for all other apps mentioned in this list. CokernutX works with iOS 7, iOS 8, iOS 9, iOS 10, iOS 11, and obviously with Apple's iOS 12. All non-jailbreak devices are supported.
Store URL: https://www.cokernutx.com/
6. TopStore App Store:
TopStore App is a collection of all popular cracks for apps and game hacks. It's compatible with the latest iPhone XS and iPhone XS Max, and as other mentioned App Stores, also TopStore doesn't require Jailbreak, or Apple ID to work. Download cracked applications for free on your iOS device.
Store URL: https://top-store.vip/
7. CyrusHUB App Store:
CyrusHub is a new hub to install apps, tweaks, emulators, jailbreak tools on your iPhone, iPad, iPod devices without jailbreak from few sources in one app. You can find here few packages available in Cydia Repositories and install them on iOS 12. No computer required.
Store URL: https://cyrushub.app/
8. Tongbu App Store:
Tongbu Store is a free platform to install paid apps (cracked IPA) for free on iOS 8, iOS 9, iOS 10, iOS 11, and the newest iOS 12. The developer offers access to Tongbu tui Free and Tongbu tui VIP edition that includes exclusive hacks and apps. The software is compatible with the newest iPhones and iPads.
Store URL: https://tui.tongbu.com/
9. Tutuapp App Store:
Tutuapp VIP is available only for premium membership owners only. It offers similar features that you could find in vShare Pro. Install paid versions of apps and games available in the AppStore for free. Tutuapp supports all modern Apple devices including the iPhone and iPad.
Store URL: https://tutuapp.vip/
10. AppCake App Store:
AppCake is the only store in this suite that requires a jailbreak. To run the AppStore you need also to download additional AppSync Unified tweak allowing to install unsigned, fake-signed, or ad-hoc signed IPA packages on iPhone and iPad. The platform is revoke-free with cracked IPA files.
Store URL: http://cydia.iphonecake.com/
11. FlekStore App Store:
FlekStore (FlekSt0re) is a free 3rd-party App Store for iOS allowing you to install ++ apps and tweaks without Jailbreak. The AppStore is compatible with iOS 9.3.5 up to iOS 12. Moreover, you can add manually new FlekStore Repositories to the app to access even more applications for download.
Store URL: https://flekstore.com/
12. iPABox App Store:
iPABox is a free and ad-supported platform from where you can install signed IPA files directly on your device. Access tweaked and modified apps like Spotify++, YouTube++, Deezer++, Whatsapp++, YouTube Music++, and others including MediaBox HD, ZiniTevi, FilzaJailed, iTransmission, ToonsNow, etc.
Store URL: https://ipabox.store/
13. iOSGoods App Store:
iOSGods App is a free AppStore with access to cracked applications, and lots of game hacks for iOS. The platform is focused on game hacks and modifications allowing you to cheat and activate special features in games like additional money and lives, unlock weapons or infinite ammo, and lot more.
Store URL: https://app.iosgods.com/
Disable revokes on iOS
If you decide to jailbreak your device with a tool like unc0ver or checkra1n it is possible to disable revokes for all apps installed from 3uTools, and even 3rd party AppStores like AppValley, PandaHelper, and others. Please be informed that some apps don't work on a jailbroken systems like iSpoofer.
Step 1. Open the Cydia app on your device.
Step 2. Tap Sources → Edit → Add the kiiimo Repository.
Step 3. Switch to Search Tab and type Anti-Revoke 2.
Step 4. Tap the Install button.
Step 5. Respring your device.
All apps installed on Anti-Revoke 2 hack will work until you restart your device. The jailbreak state will be lost, so it's required to re-jailbreak your device. This solution was tested on iOS 12 and iOS 13.
You might also like