Best Media Players 2019 for Windows 10. Video players for Windows we love
kuba - Friday, 2 March 2018
Our editors have chosen the Best Media Players 2019 for Windows 10. When you play video files on Desktop it is important to have a good media player that works fast, plays all popular format in the box, and can open subtitles. Video players for Windows we love.
There is a lot video players available for Windows, including support for the new Windows 10. Some of the are free and for some media players you need to pay. We like to introduce you to our ultimate list of video players for Windows that are free to use. Our list include VLC media player, AllPlayer, GOMPlayer, BSPLayer, POTPlayer, KMPlayer, and SMPPlayer. Most of the included video players can play media without need to install additional cosecs on Windows system. Did we miss any great, and free video player? Please let us know in comments section below. If you are looking for software to watch online or stream TV-Shows and movies check our article Stream torrented movies and TV-Shows.
Best Video players for Windows
VLC - Media Player for every video
VLC a free and open source cross-platform multimedia player and framework that plays most multimedia files as well as DVD, VCD, SVCD, Audio CD, VCD, various streaming protocols and devices including DVB or webcams and much more.
Application plays most popular formats including MPEG-2, DivX, MPEG-4, H.264, MKV, WebM, WMV, MP3, RealMedia without the need to install extra codecs or filters. VLC also offers support for subtitles in the most popular formats like MicroDVD, SubRip, SubViewer, SSA1-5, SAMI or VPlayer, the ability to edit ID3 tags, and a range of filters allowing magnification, adding logos, improving video quality by changing the color saturation and sharpness parameters, etc.
AllPlayer - the Video Player
AllPlayer is a great video player offering support for all popular video files and formats including MKV, DivX, XviD, AVI, MP4, 3GP, M2TS, MPG, MPEG, RMVB, WMV, QuickTime, MOV, FLV, FLAC or APE. The included codec offer support for all multimedia. You don't need to install third part codecs to watch a movie.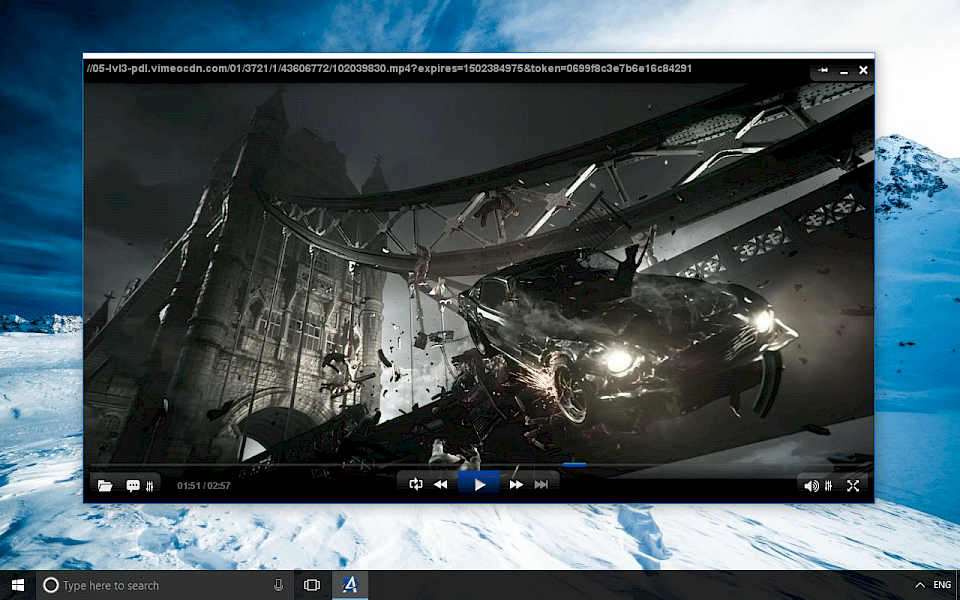 AllPlayer offers support for a vast number of subtitle formats. Supported files formats are ASS, SSA, SubRip. SubViewer, SubRip, MPL2, SRT, SMI and TXT files. ALLPlayer has also been equipped with an intelligent system that analyzes the IQ Text length of the string and changes the duration of the sentence display. If ALLPlayer detects that you do not have subtitles for a movie that you watch, It will find them in the best sites with subtitles, and automatically downloads it for your convenience.
GOM Player - play AVI, MP4, MKV, FLV, WMV, MOV, and more!
GOM Player is a free video player with its built-in support for almost all available video formats including AVI, MP4, MKV, FLV, WMV or MOV. The player does not need to install extra codec to play multimedia files.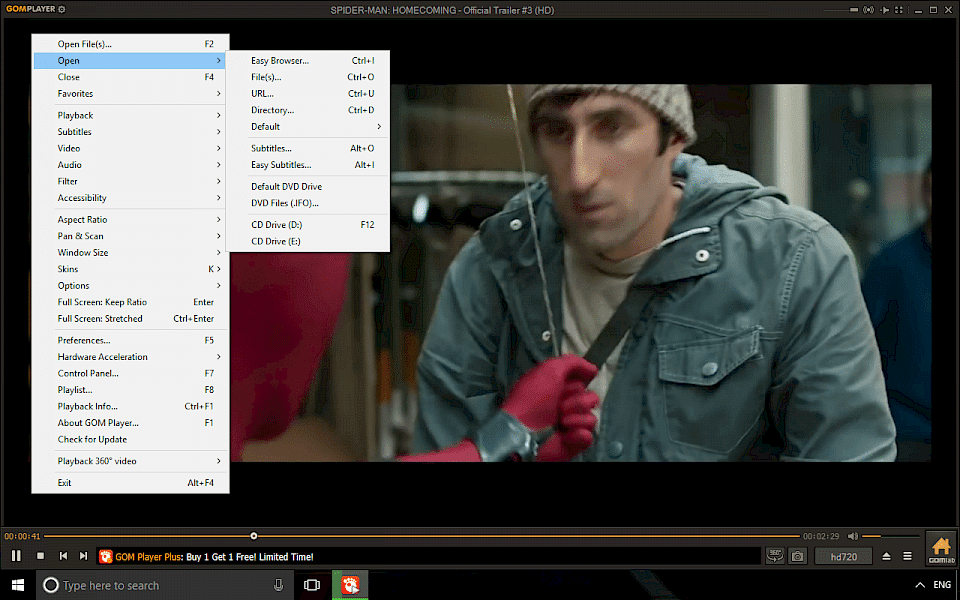 GOM Player features include a built-in equalizer improves the sound quality, playlist support, support for skins changing player interface, ability to change the speed of video playback, keyboard shortcuts support for quick access to frequently used options, mechanism for improving quality video and much more. You can share and download a large number of subtitles through our own library and also by linking with OpenSubtitles.org. GOM Player can freely adjust the placement, size, and sync settings of your subtitles.
BSPlayer - play movies, music, podcasts, and TV streams
BSPlayer Free is a free version of a great media player designed to play movies, music, DVDs, radio and TV streams or podcasts. The application uses minimal memory and CPU resources. It can also download needed codec and filters.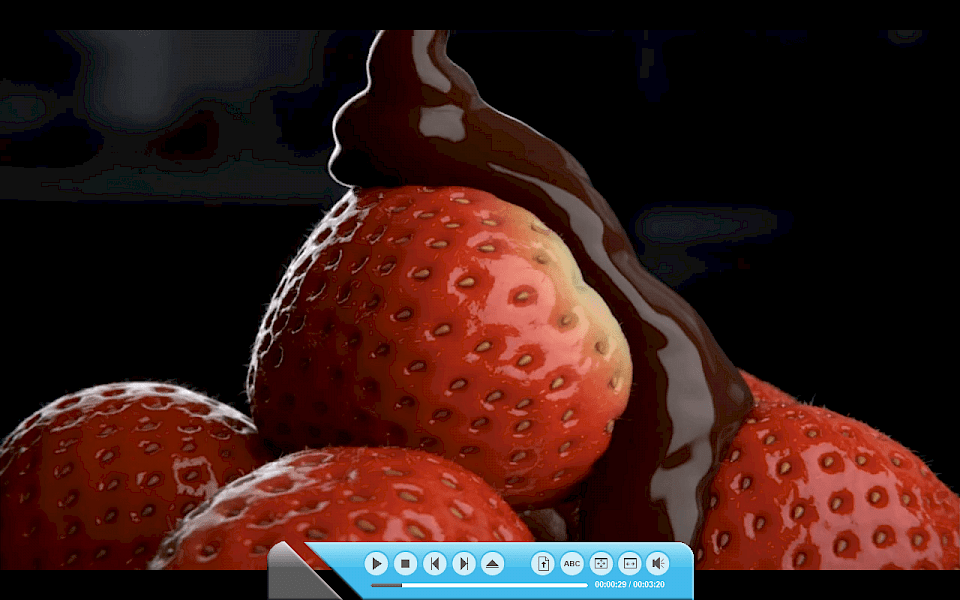 Some of the greatest features of BSPlayer include option to automatically search and download subtitles to movies, stream YouTube videos, support for the AVCHD format used without a series of cameras including Canon, JVC, Panasonic or Sony, function to capture video frames and save them to JPEG, view each frame of film, and ability to control the speed of video playback, support for skins, command line and much more.
PotPlayer - light and powerful Video Player
PotPlayer is a media player with built-in codecs and filters allowing you to play most popular audio and video formats in Windows system. The software works with DVDs, and signals from the TV or satellite tuners, digital cameras, Internet streams, etc.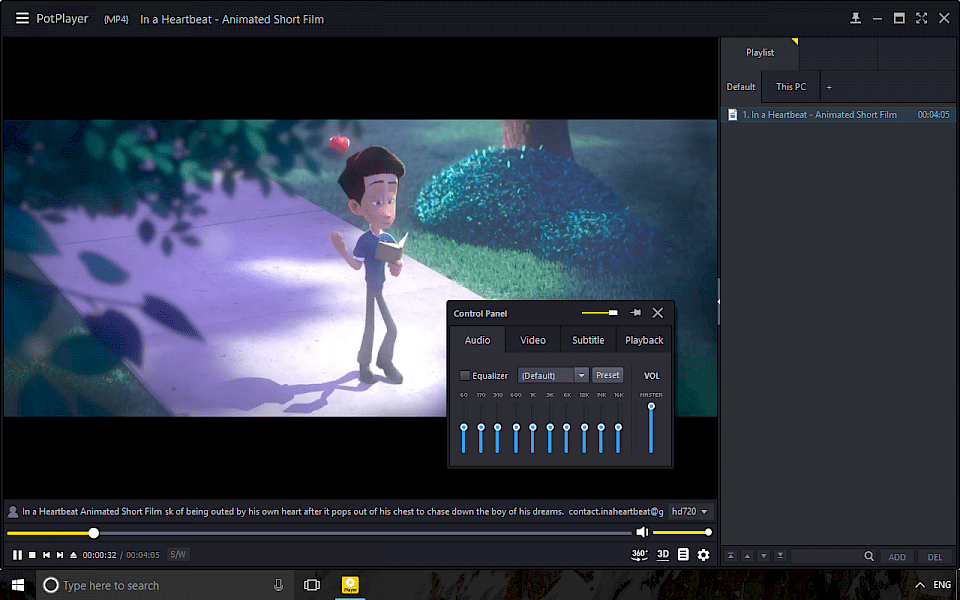 PotPlayer provides the maximum performance with the minimum resource using DXVA, CUDA, QuickSync. You can even watch 3D movies (requires special glasses), load subtitle formats SMI, SRT, Vobsub, and Blu-ray subtitles, ASS, SSA, SMI, etc. PotPlayer offers options to control the video playback quality improvement with built-in filters and tools, change color tones with the built-in equalizer, create profiles settings, change the ratio of the movie, capture video and much more.
KMPlayer - Media Player for Windows and Mac
KMPlayer is the media player that supports most popular video formats including AC3, DTS, AVI, DVD, VCD, MPEG-1/2/4, WMV, WMA, OGG, RealMedia, QuickTime and many others. It offers also an option to capture audio and video or screen capture is possible and save in the format you want.
The player offers a variety of functions including option to create video screenshots, view subtitles, ability to change the playback speed of the movie, select and save your favorite video segments, generate thumbnail galleries of selected material, edit subtitles, support for 3D subtitling, capture and record stream to a selected format, possibility to apply real time effects to improve the quality video and more.
SMPlayer - Video Player for Windows with Youtube support
SMPlayer is an interesting audio and video player based on MPlayer engine. The program works very well with almost all formats including AVI, MKV, MPEG, VOB, MOV, WMV, MP3, OGG thanks to the built-in codec. Download SMPlayer for Windows and Linux.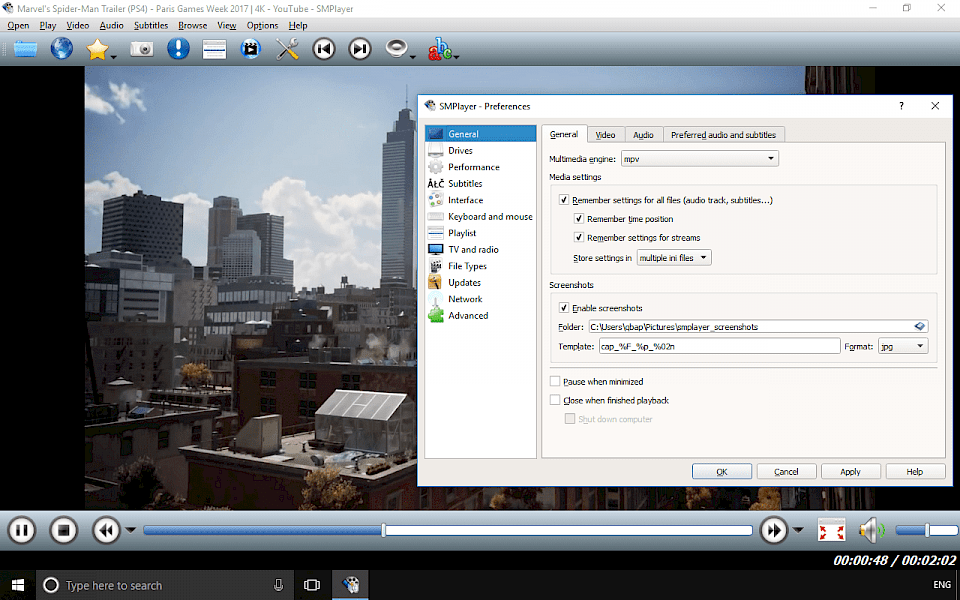 One of the most interesting features of SMPlayer player is an option to save video playback settings. The program remembers not only the position of last viewed movie, but also saves all settings associated with the file including sound volume settings, used subtitle file, selected audio tracks, subtitle settings including fonts, color, and size, etc.