Best digital painting software for Windows. Draw and paint using digital art software.
kuba - Monday, 22 January 2018
Using the right digital art software you can create natural, and stunning paintings on your desktop. Check our list of best digital painting software for Windows. Drawing software free download links are available on end of this article.
Digital painting is a technique of creating an art on your computer. It adapts traditional painting medium such as acrylic paint, oils, ink, watercolor, etc. and applies the pigment to traditional carriers, such as canvas, paper, polyester etc. We selected the most natural painting software dedicated to professional artists. Some solutions are also available for Mac.
Digital painting software
1. Corel Painter - digital art and painting software
Corel Painter is one of the most popular apps designed to paint, draw and create illustrations and graphics based on photographs. The program offers a rich collection of professional tools, paint and canvas palettes, and paper fracture.
Main features of Corel Painter include support for layers, access to a variety of brushes generating natural effects like you would use a real brush. You can mix colors, modify the look of an application by display-only access to necessary tools, built-in filters allow you to preview the final effects on the entire graphics or a tool for track and control a virtual brush. Physics-inspired brushes that spring, flow, glow and gravitate onto the canvas, offering an infinite number of creative possibilities.
2. Krita - complete solution for professional artists
Krita is a free software designed to paint images using a graphics tablet and edit raster graphics. The tool supports also touch screens through the Sketch interface. Krita was created as painting tool designed for concept artists, illustrators, matte and texture artists, and the VFX industry.
The program was designed primarily as a painting tool, but it can also be successfully used to modify and edit photos. Krita is equipped with a rich collection of various tools and features available from the clear graphical interface. The application supports major graphic formats including BMP, JPEG, PNG, RAW or TIFF. Krita Free includes 3 different ways to smooth and stabilize your brush strokes. There is even a dedicated Dynamic Brush tool where you can add drag and mass.
3. Painter Essentials - sketch, draw and paint
Painter Essentials is an app for painting with a set of over a hundred digital brushes, tools, paint, and textures appearance reflected a variety of paper types. The tool is a simplified variant of Corel Painter.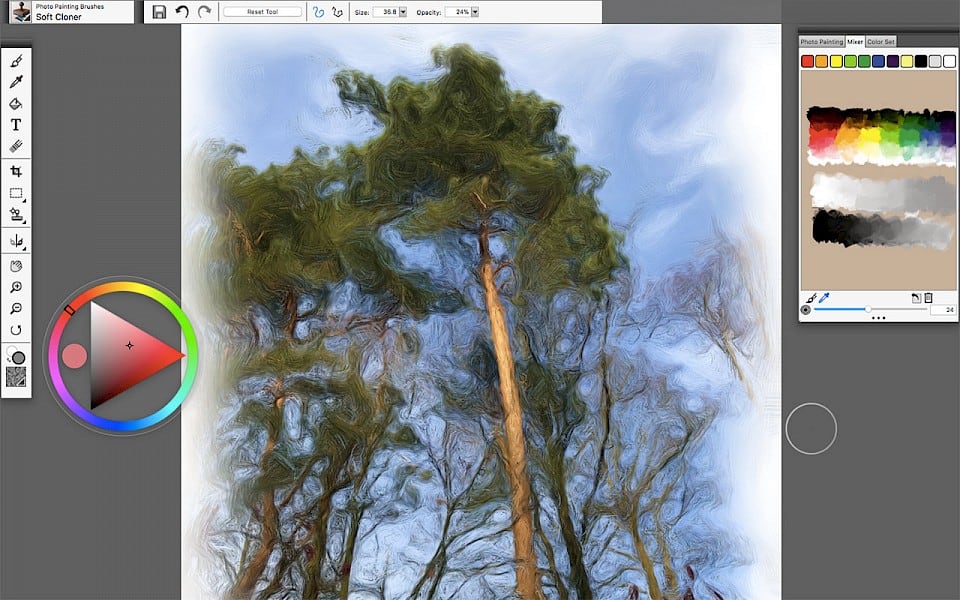 The program can be used both for painting extremely realistic digital images and create sketches or photographic processing. Among the key features editor Painter Essentials worth mentioning access to realistic brushes are available in Corel Painter, the opportunity to work in layers, tracking and editing functions brushes traffic, generate and preview effects in real-time, converting graphics using tools scaling, transformation, etc., or paint in mirror mode or kaleidoscope.
4. Artweaver Plus - full-featured painting tool
Artweaver Plus is a full-featured painting tool with a huge set of predefined realistic brushes to paint creatively. You can also work together on the same document with other artists using the ArtweaverTeam web service.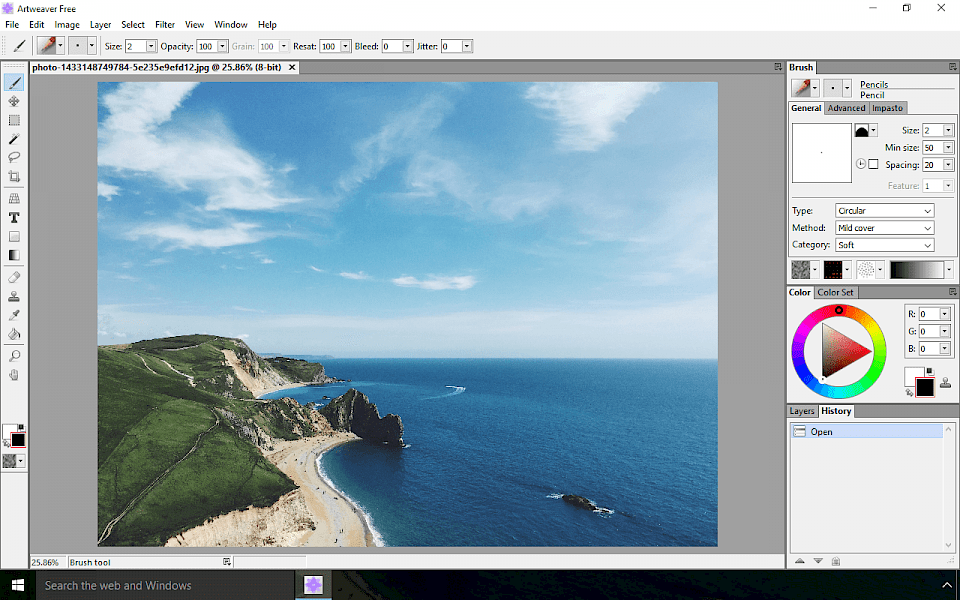 Artweaver Plus has a powerful and highly configurable brush system to simulate many different brushes. Each brush configuration can be saved as a new variant or even into a new category, and we have access to high precision 16bit brush engine for exact results. Many predefined brushes and paper, image stamp, captured, presets and different brush types like Circular, Airbrush, Hairy brush, Pixel. You can also turn existing images into artwork with brushes by just cloning colors.
5. ArtRage - natural painting software
ArtRage is a powerful app for painting and drawing images on your computer. This digital artist's studio with a full range of familiar tools that look and work like the real things. It's a canvas for thick, expressive oils and delicate watercolors, a sketchpad with a full set of pencils, and a sheet of paper with a stack of wax crayons all in one.
The program comes with tools such as brush, pencil, spatula, eraser, a tube of paint, nib with transparent ink, selecting, cloning or the color picker. Tools are imitated in a very realistic way, and the inks can be mixed and overlap. Of course, there is also support for layers. ArtRage also offers features enabling the painting symmetrical with respect to multiple axes, and as a canvas, you can choose from several kinds of paper of any color.
6. MyPaint - tool designed for digital painters
MyPaint is an easy tool designed for digital painters. It supports graphics tablets made by Wacom and other similar devices. The brush engine is configurable, and it provides useful productivity tools.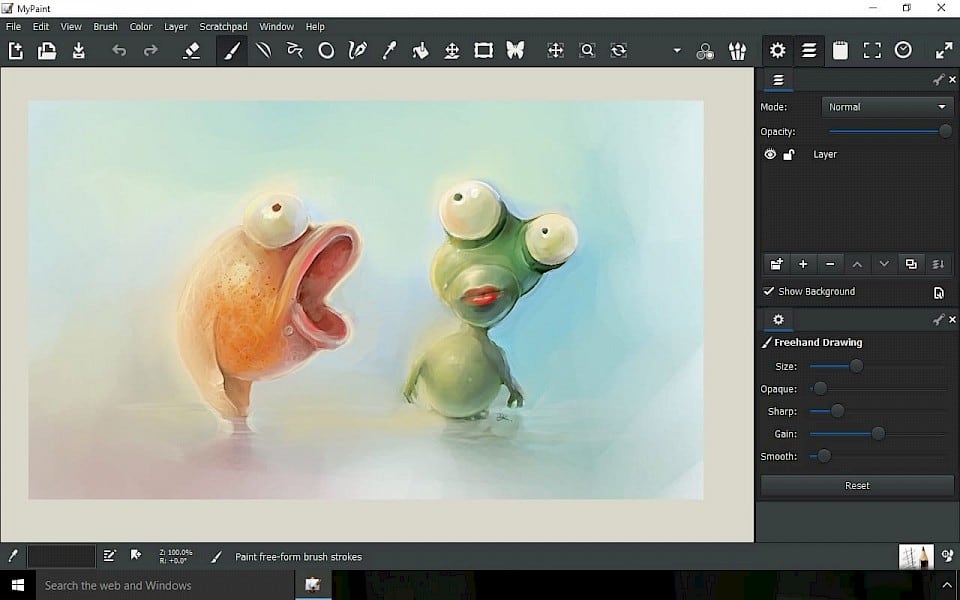 The standard brushes available in MyPaint can emulate traditional media like charcoal, pencils, ink, or paint. You don't have to limit yourself to just the standard ones. It's easy to make expressive, artful new brushes that respond how you want. Full-screen mode hides the interface, leaving you with just your brush and the canvas. You can still reveal the tools you want when you need them.
7. Rebelle 2 - paint with natural watercolors and acrylics
With Rebelle paint software you can create realistic acrylic, watercolor, wet and dry media artwork, using real-world color blending, wet diffusion and drying. The watercolor simulation was created to provide a paint program with the most natural painting tools.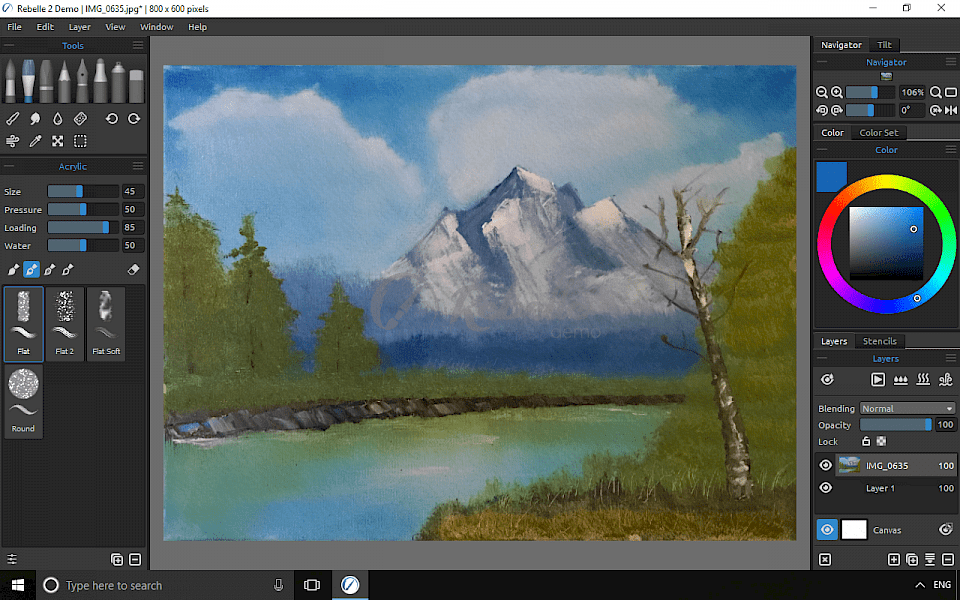 This painting software features realistic brushes with real-world simulation of paint diffusion, fast brush engine, wet tools: Watercolor, Acrylic and Ink Pen, blend and smudge tools, wet, dry and blow the wet painting, dry tools including Pencil, Pastel, Marker, Eraser, pen pressure support, tilt the canvas to get flow effects, an option to create custom brushes. Rebelle offers an intuitive customizable interface with multitouch gestures support.
8. Black Ink - drawing software for art with brush customization tool
Black Ink is a digital painting solution with offers great tools to create realistic, and natural painting effects. The software offers freedom to create and use unique brushes. You can create, tweak, combine new tools using Black Ink painting software.
One of the best features offered by Black Ink is unique brush customization tool. Controllers are a great way to customize brushes. Assign pressure, speed, randomness in any parameter you want and make your brush act exactly as you like using a simple visual block-based system. You can also mix values, experiment with rotations, scales, and gradients to create new and unique effects. Creating your perfect brush is as simple as plugging a behavior block in the desired output.