Download My Family Tree directly from the developer.
Category: Genealogy
Version: 8.0.8.0
Last update: 16/07/2018
License: freeware
My Family Tree review
My Family Tree is an application designed to create family trees. The software offers quite a number of interesting features and capabilities. More experienced genealogists will find full support for citations and evidence and options to transfer data using the GEDCOM file format.
The app allows you to create very complex databases relating to family members. Using My Family Tree you can add name, place and date of birth, social status, education, citizenship, feint, and even religious beliefs, property, place of residence and many others. Moreover, the user can store images, audio and video files, records as well as data on genetics in the database. Analyse family statistics on births, deaths, and marriages and view all family events in an interactive timeline.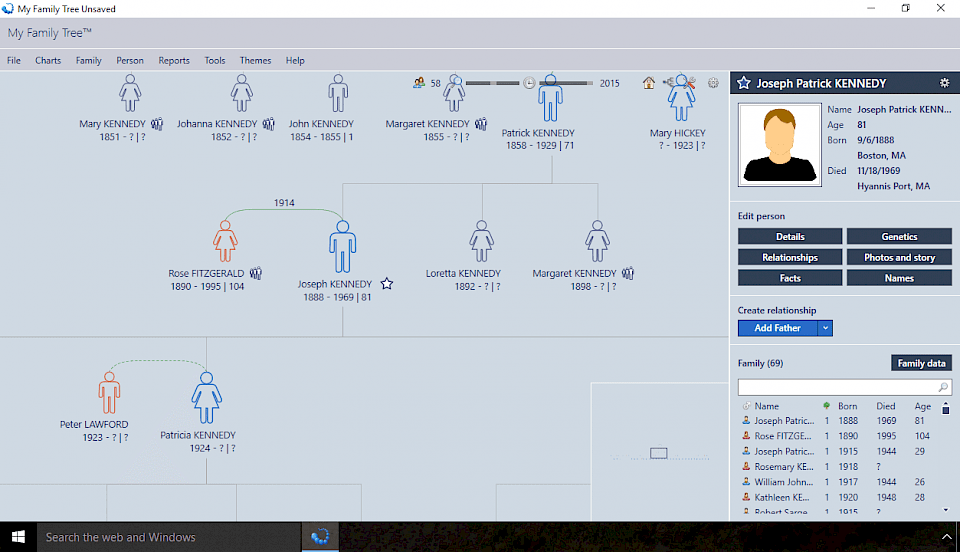 Other features include options to generate over 20 types of customisable web reports from family groups to personal timelines, store all your family tree information, and multimedia in a single compressed file for easier portability, check who's related to who with the relationship calculator and detect data discrepancies including ancestral loops, edit data in bulk using data grids with advanced filtering. Search using phonetic "sounds like" matching and more.
Geocode places in your tree and view where events happened on an interactive map. You have an option to export place information for use in advanced mapping services. My Family Tree allows you to protect and backup your data with encryption. You can use privacy settings to control the information exported in reports and printouts My Family Tree makes it simple to record sources and citations for all of the information stored in your family tree.
My Family Tree Download
You can download My Family Tree 8.0.8.0 for Windows .