Start EMDB download now, for free!
What is EMDB?
EMDB is a free application designed to catalog movies and TV series. Using this software you can create a database with information about favorite shows, rate movies, download covers and much more. EMDB is available for free download in Windows version.
EMDB allows you to manage the collection of all movies and TV-Shows. You can start from scratch but it is, even more, fun to add new items and import all data related to films and TV series from the most popular sites including IMDB, DVDEmpire, FreeCovers.net or MovieMeter.nl. The software search for covers, cast, link to the trailer, displays user ratings, certification, duration, genre, writers, director and more.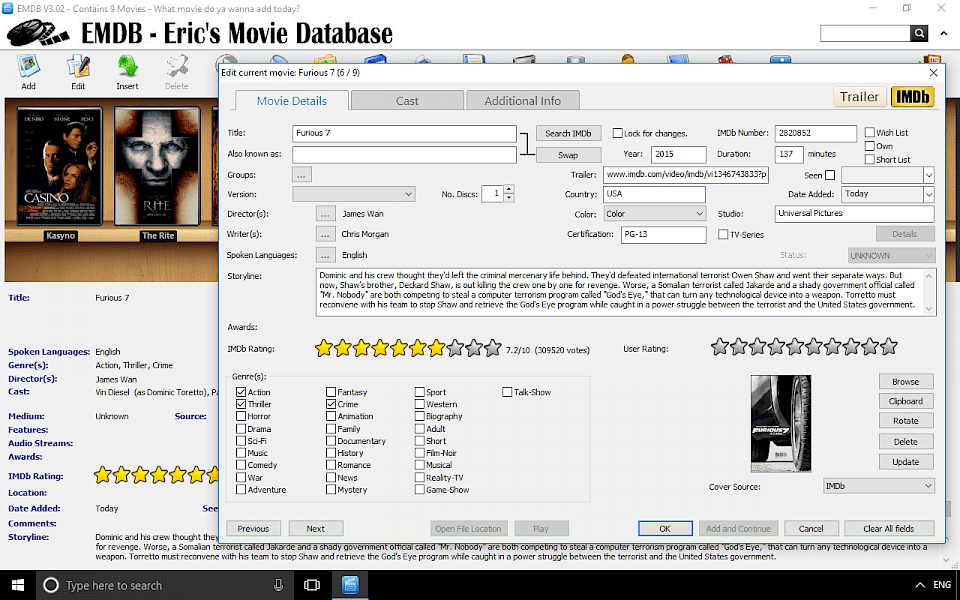 EMDB offers a lot of great features. The app can automatically update movies description, export database to file formats like HTML, TXT or CSV, edit several films at the same time, mass import videos from files on your hard disk, sort database using filters based on selected criteria including the name, evaluation, genre, year of release, resolution, etc.
EMDB can also be used to create wish lists. The software can also display all movies the selected actor plays by clicking on the photo. You can quickly navigate to the actors by clicking the actors listed in the Movie Details Panel or Advanced tooltip.
EMDB download
You can download EMDB 3.27 for Windows .