When you create Windows software, it is recommended to provide an installer for it. There are few possible solutions to do it. You can write your own solution or use some industry standard installation software available in our software directory.
Almost all installers are created by popular installation software. One of the most know solutions is NSIS. Scripting in NSIS (Nullsoft Scriptable Install System) allows you to add features to our installers like for example option to automatically download required libraries from the Internet, create web installers, patch existing files, edit entries in the system registry, install applications in silence mode and automatically verify checksums CRC32. If you are looking for more advanced platform you can check InstallMate from Tarma Software or CreateInstall created by Novostrim.
Installation software list
1. InstallMate - create software installers for Windows platform
InstallMate is a professional tool to create advanced installers for apps designed for Windows platform. You can download InstallMate for Windows for free. The installers that you create run in Trial mode and they expire 14 hours after you create them.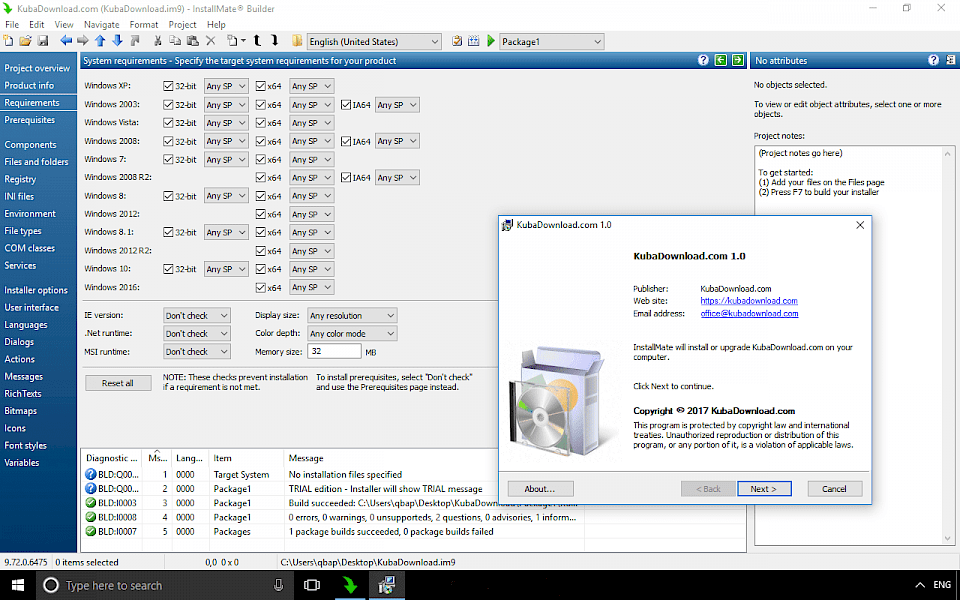 One of the most exacting features of InstallMate is the ability to design the installer interface using WYSIWYG editor. Users can move the components around the window, change font styles, colors, elements, add graphics, icons, etc. InstallMate can also generate password-protected installers, compress files, download additional libraries, system compatibility before installing the program and much more.
2. Inno Setup - a free installer for Windows apps
Inno Setup is a completely free tool allowing you to create installers for applications or games that run on Windows platform. Supports creation of a single EXE to install your program for easy online distribution. Disk spanning is also supported.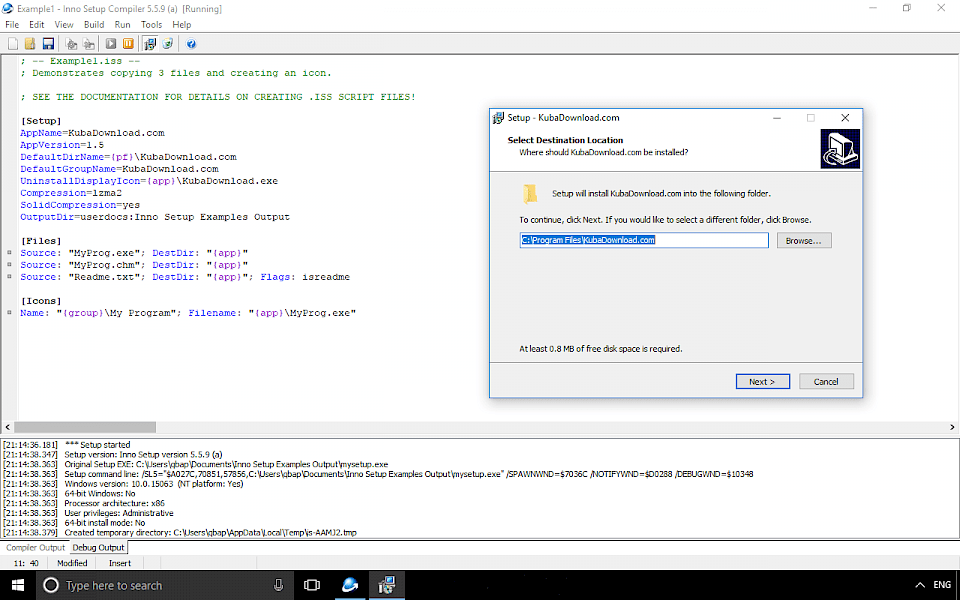 Installer created with Inno Setup can be compressed using algorithms BZIP2 and 7-Zip LZMA / LZMA2. The installer has the ability to compare file version info, replace in-use files, use shared file counting, register DLL/OCX's and type libraries, and install fonts. You can create shortcuts anywhere, including in the Start Menu and on the desktop, and registry or .INI entries. There is also support for digitally signed installs and uninstalls, including dual signing (SHA1 & SHA256).
3. InstallBuilder - create multiplatform installers
InstallBuilder is a multiplatform tool designed to generate installers that can be run on systems such as Windows, Mac OS X, Solaris, HP-UX, AIX, FreeBSD, OpenBSD, IRIX, or Linux distributions. InstallBuilder-built installers will automatically run in GUI, text, or unattended modes depending on the environment.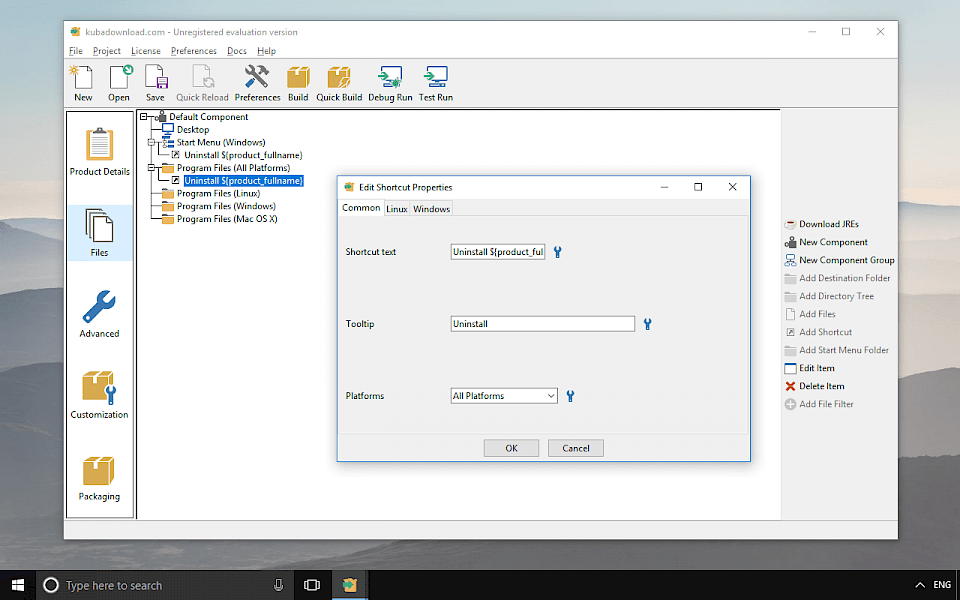 Feature highlights of the tool include option to generate installers with a graphical interface or from the command line depending on the environment, function to use the built-in actions to change registry entries, create folders, check the file properties, etc., great compression ratios to further reduce the size of installers with LZMA support, prepare Online installers downloaders and much more. InstallBuilder installers can install applications written in any language, including Java, PHP, Perl, Python, Ruby, C / C++, Flash, Flex and .NET / Mono.
4. CreateInstall - complete control of installation process
CreateInstall is a free installation software. It uses Gentee programming language as script installation language, but you can also use CreateInstall Assistant that is installed together with CreateInstall and is used for the quick creation of installations.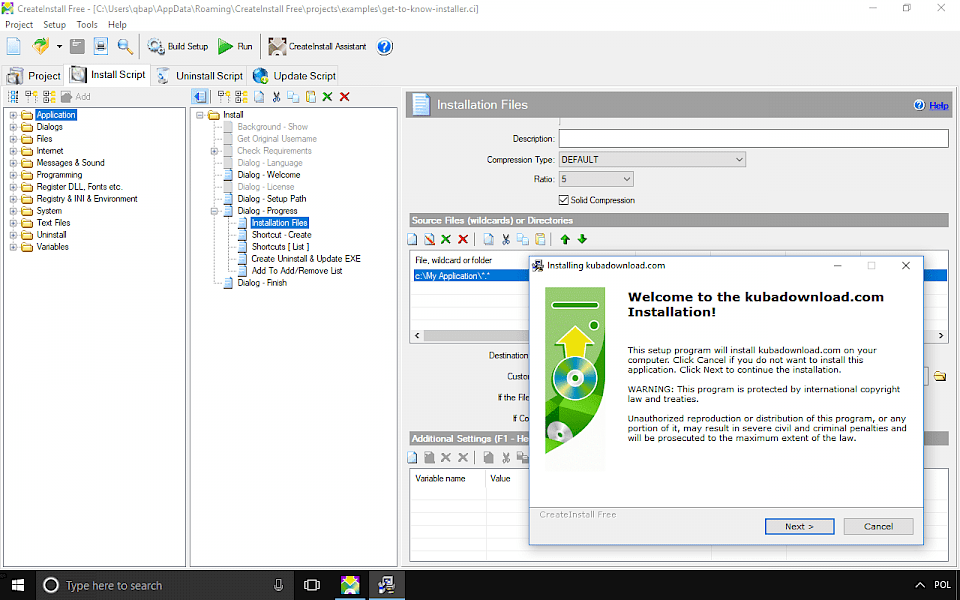 The installation software comes with built-in commands that are already available but you can add any operations that you require using Gentee programming language. Your installation packages will do only what you tell them to do. Using CreateInstall you have complete control over the install and uninstall processes. You can modify the interface of dialog boxes, add own resources including graphic items, and you will also have about 100 KB of source code used in installation packages.
5. NSIS - open source system to create Windows installers
NSIS (Nullsoft Scriptable Install System) is an excellent tool to create installers for own software. The user can freely modify both aspects of appearance and functionality of installers. It also can generate tools to uninstall the app.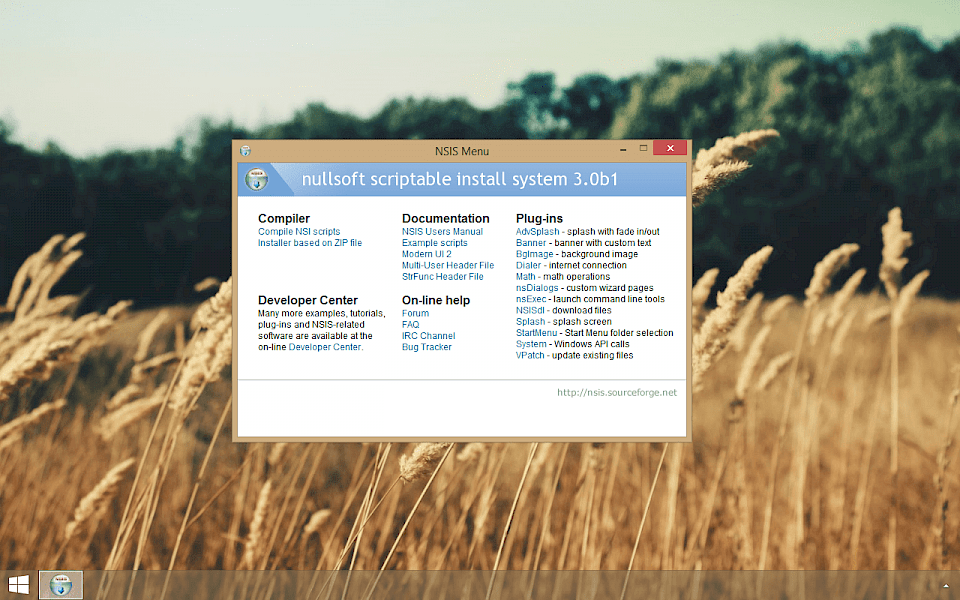 The most important advantage of NSIS is an option to create very small sizes installers. The whole mechanism created by the installer using NSIS takes an average of 34 KB. Among the most important features of the application we can find the ability to compress files using algorithms ZLib, BZip2 or LZMA, create custom installation scripts, it offers support for a multi-language interface (the default is more than 40 built-in translation) and there is an option to generate tools to uninstall our software.