Download Autodesk Meshmixer directly from the developer.
Category: 3D Modeling
Version: 3.5
Last update: 16/05/2018
License: freeware
Autodesk Meshmixer review
Use Meshmixer from Autodesk to clean up a 3D scan, create 3D printing ready models, or design an object. Autodesk Meshmixer offers a lot of functions from 3D Sculpting and Surface Stamping, to robust Convert-to-Solid for 3D printing.
Autodesk Meshmixer features options to drag-and-Drop Mesh Mixing, automatic Print Bed Orientation Optimization, Layout and Packing, 3D Sculpting and Surface Stamping, robust Convert-to-Solid for 3D printing, 3D Patterns and Lattices, branching Support Structures for 3D printing, hollowing (with escape holes). Meshmixer offers professional tools including advanced selection tools including brushing, surface-lasso, and constraints, Hole Filling, Bridging, Boundary Zippering, and Auto-Repair, Plane Cuts, Mirroring, and Booleans, mesh Smoothing and Free-Form Deformations and more.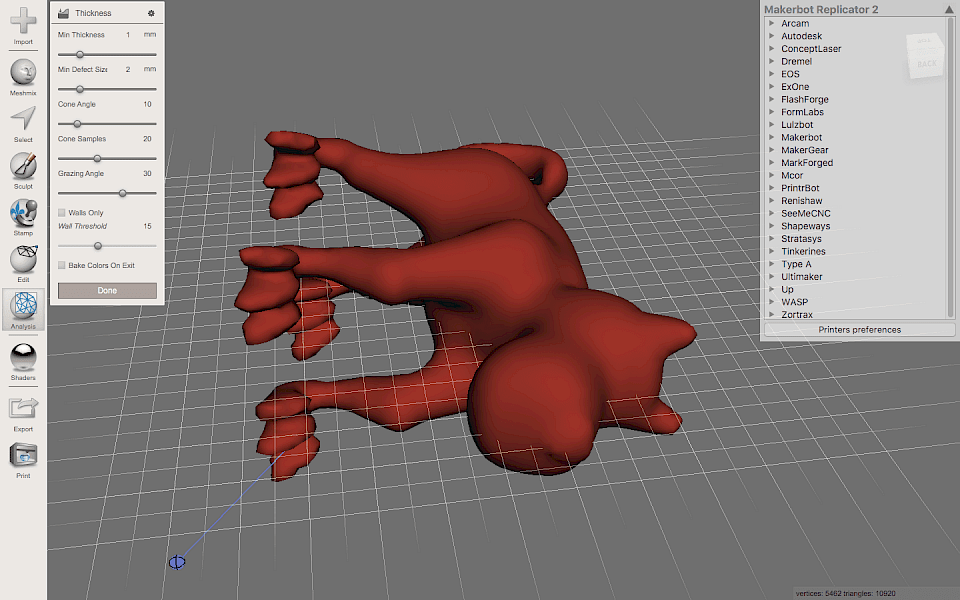 Moreover, Autodesk Meshmixer features remeshing and Mesh Simplification/Reducing, Extrusions, Offset Surfaces, and Project-to-Target-Surface, Interior Tubes and Channels, precise 3D Positioning with Pivots, automatic Alignment of Surfaces, 3D Measurements, Stability and Thickness Analysis tools.
Autodesk Meshmixer Download
You can download Autodesk Meshmixer 3.5 for Windows Mac.