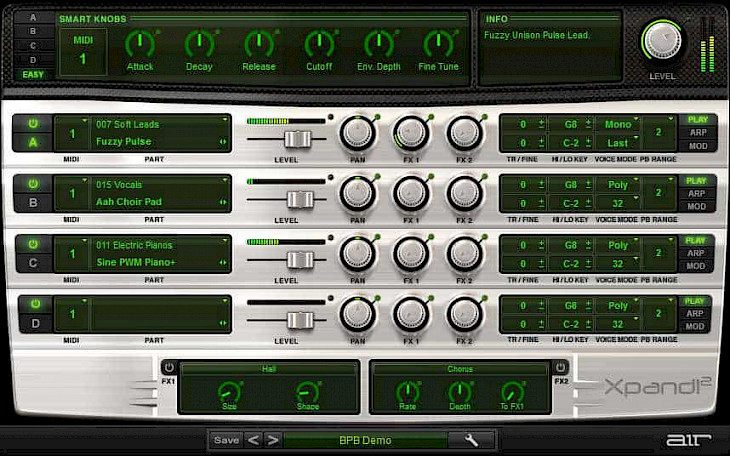 Download Xpand!2
People resort to physical music instruments to produce heavenly harmonies. This method is followed since time immemorial. But like all landscapes of today, technology has renovated the landscape of music. This renovation was done by means of virtual instrument technology. It is exactly what it sounds like. Music is produced through online instruments and not by physical ones. This innovative concept led to the formation of companies like Air Music Technology. It became one of the earliest pioneers of revolutionizing the field of virtual instrument technology. It achieved this by launching Pro Tools, a now popular music software. Xpand!2 is a plug-in for the Creative Collection of Instruments instilled in Pro Tools.
With the popularity of Pro Tool's sky rocketing, budding musicians and sound engineers grew to heavily depend on the firepower of Xpand!2's workstation. This finally led Air Music Technology to develop separate software for it. This is how Xpand!2 came to be a dominative force in improvising virtual instruments.
Key Features Of Xpand!2
Quadruple Channel
The Xpand!2 is prominent for its use of a quadruple workstation. This means it consists of a four-way channel wherein each channel can harness different sound qualities, namely sound modulation, aggregation, effects, and mixing. These four channels together constitute the patch of the music. Now the patch has its own share of customizable effects. This includes, but is not limited to, channeling the patch into mono and poly modes. Following this, unique voice blends, sound distortions, and instrument amplification can be added.
Knob Control
Xpand's control board is fitted with unique knobs. These knobs can operate collectively or individually, tweaking the sound of each section of a song. Operating in an easy mode allows you to manipulate the sound of the entire patch whereas operating in advanced mode lets you modify each channel of a patch. Imagine the number of tunes that can be produced this way!
Readymade Music
The software has its own collection of music that expands over 30 categories. Consider them to be music templates of sorts. You can use these tracks, edit them thoroughly, and add your unique touch to them.
System Requirements Of Xpand!2
To install this software on your system, ensure that it meets the following requirements.
It should have Windows 7/8/10 64-bit operating system.

It should have a Dual Core 2 GHz processor (preferably Intel Core i5 or i7)
.
How To Install It On PC
Once you green light the system's compatibility, follow these steps to download the software.
When you click the download button, a zip file gets downloaded to your system.

Extract the contents of this file to your desktop. Run the setup's .exe file.

In the setup window, follow all the installation instructions until you finally hit the 'Finish' button.

Xpand!2 finally gets installed on your system. Just double click the icon from the desktop to run it.
You might also like