Simple Port Forwarding download for Windows.
Category: Other internet apps
Version: 3.8.5
Last update: Feb 7, 2019
OS: Windows
License: freeware
What is Simple Port Forwarding?
Simple Port Forwarding is a powerful and simple tool to port forward your router for free. It works with web pages and not directly with your router, making it very safe to use. You can also setup port forwarding yourself using your favorite browser.
This tool will quickly automate the port forward process, the way you don't need to understand how to forward ports. It's packed with a large database of known ports for over 700+ games and programs, so finding the port you need is made a little easier.
Simple Port Forwarding will also remember custom applications.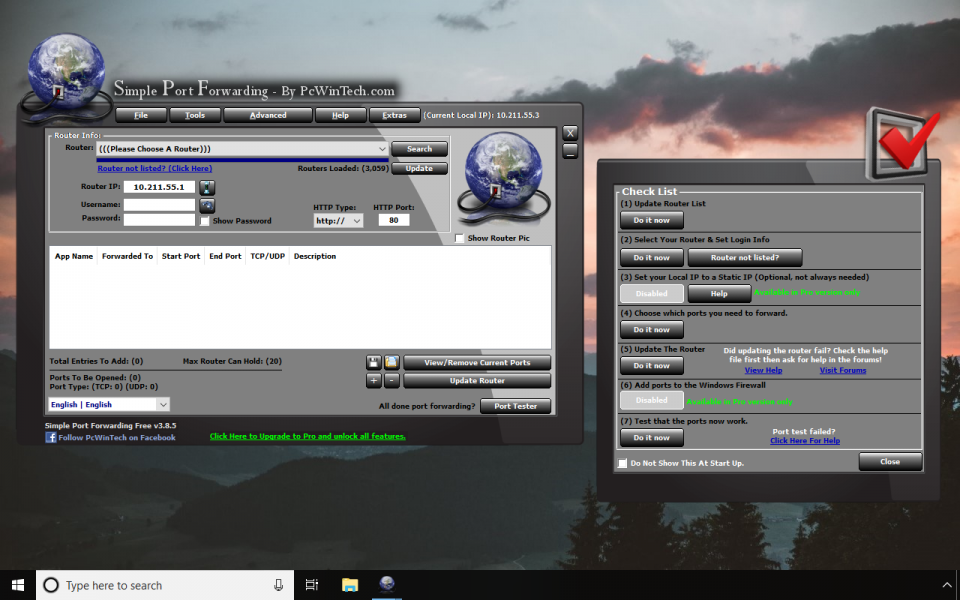 Giving options of seeing what is going to be forwarded to the router and how many entries and ports it will use in the process. You have the ability to save your list and send it to another user.
The program remembers the last IP address you use to forward to, this helps not having to set it every time you load new ports!
Simple Port Forwarding is packed with extra tools, such as a tool to set your IP to static or back to DHCP. When port forwarding the router forwards to an IP address. When DHCP is enabled your IP address can change and thus breaking the port forwarding.
Use also the software to add ports to the windows firewall. Once you have your ports forwarded you can then test to see if they can be accessed right from within the program using the built-in port tester.