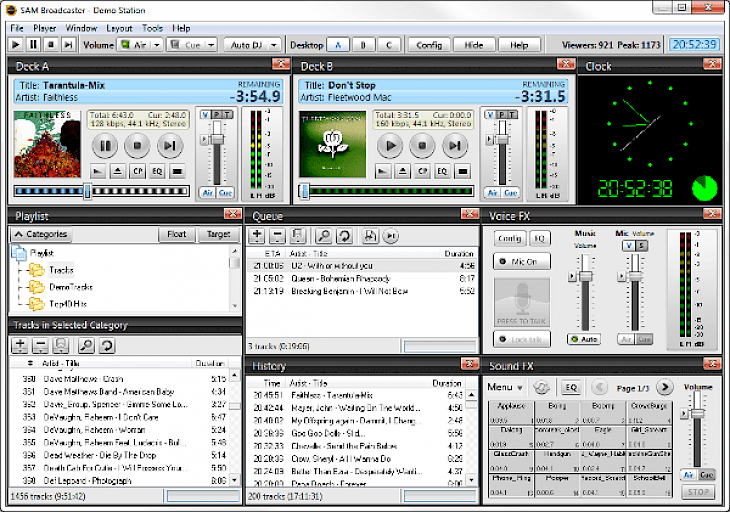 Download SAM Broadcaster PRO
Those interested in or want to try online broadcasting can try a user-friendly software called SAM Broadcaster. This software is an online radio solution developed by Spacial Audio Solution LLC. It provides various expertise tools and a wide range of advanced features that helps its users start their online radio station.
If you are interested in starting your career in radio, then this software is the best choice for you. You can directly stream your own streaming server by using this excellent platform.
FEATURES
Professionalism
SAM Broadcaster provides you various advanced features that are generally used by professionals. These radio features include gap killer, volume normalization, 5-band compressor, and many more.
Media Library
You can organize all your media files in multiple categories. Track information of all your music libraries by using Amazon.com.
Multiple Formats
You can stream your radio in various formats. These media formats like Window Media, AAC, aacPlus, mp3, and other multiple formats.
Listener Report
You can view your audience and how effectively it is growing in just a few clicks. You can also access useful reports of your station playback history.
Get everything you need
SAM broadcaster pro provides you almost all the features and tools required by the user. This software has special effects, which help to add remarkable special voice and sound effects along with equalizer and faders to your radio streaming.
Well-organized interface
This software has been developed in an organized manner with a user-friendly interface. SAM broadcaster integrates with suitable streaming encoders that work well with multiple formats.
SYSTEM REQUIREMENT
Before installing this software on your PC, make sure that you have met the minimum system requirement.
Operating system: Windows 7, 8, 10

1 GB of RAM

100 MB free hard disc space
How to Download?
SAM Broadcast Pro provides you an excellent user experience while working on the big screen of your system. You can use this software with a significantly little experience without any expertise knowledge. Users can use the advanced features to practice the streaming radio station effectively. To run this popular software on your windows operating system, you can follow the instructions described below.
Step 1: You can download the setup file or .exe file directly from here.
Step 2: Once you have downloaded the setup file, follow the step-by-step guidelines and instructions to run this software on your system.
Step 3: After following all the steps, click on finish, and now you can use this internet radio user-friendly software on your PC.
You will need to avoid running another task simultaneously with SAM broadcast pro software. This could affect the real-time performance of this internet radio platform. Make sure that you have a good internet connection while streaming the radio.
You might also like