EF Commander download for Windows.
Category: File managers
Version: 20.04
Last update: Apr 2, 2020
OS: Windows
License: trial
What is EF Commander?
EF Commander is a old school file manager for Windows. The first version was written in 1994, under the OS/2 operating system using Presentation Manager, as a replacement for Norton Commander. EF Commander is now a modern file and folder manager.
The software offers a tabbed interface where you can quickly access folders and files. The built-in FTP client features resume download and FxP (server to server transfers), FTPS secure (SSL/TLS) connection. EF Commander offers a built-in audio player running in the background, a tool for mass file renaming, and internat text and hex editors for files that are limited only by your system resources.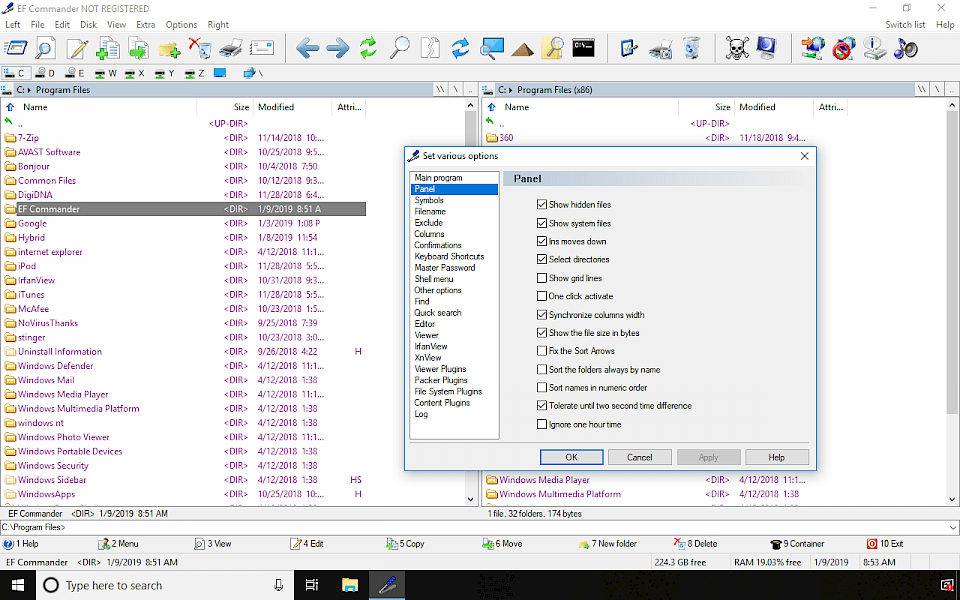 Other features include option to view picture files and movies, play MP3, Ogg/Vorbis, FLAC, WMA and WAV audio files. EF Commander supports more than 20 archive formats including 7-Zip, ACE, ARC, ARJ, BZIP2, CAB, CPIO, GZIP, IMG, ISO (ISO9660 ), LHA, RAR, RPM, SFX, SQX, TAR, TBZ (TAR.BZ), TGZ (TAR.GZ) TXZ (TAR.XZ), XZ, ZIP, Zip64, ZOO. Additionally EF Commander can expand access to more than 400 file formats by using XnView and IrfanView as add-ons.
Moreover, EF Commander allows you to split and merge files, edit text files, generate checksums in formats SFV, MD5, SHA1, SHA256 and SHA512, synchronize data on the local network and burn CD / DVD (requires installation of Nero). You can extend the functionality of EF Commander with external plugins. Supported formats include WLX, WCX, WFX and Winamp decode plugins.