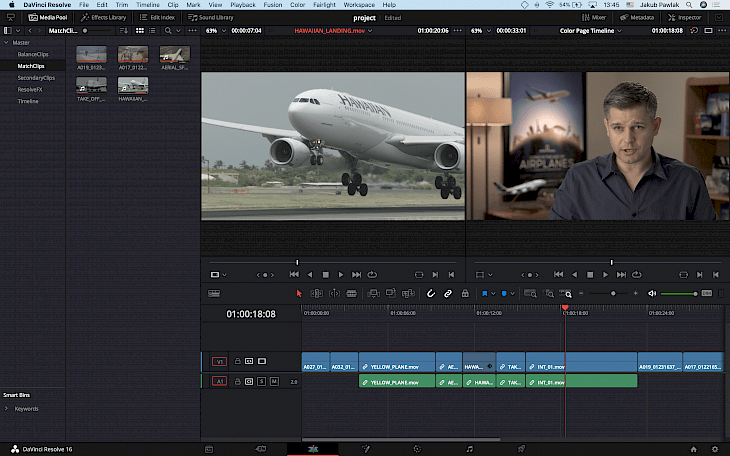 Download DaVinci Resolve 16
DaVinci Resolve 16 is a great platform that combines professional nonlinear video editing (also 8K) with the most advanced color corrector, 2D and 3D compositing, motion graphics, and professional audio tools so now you can edit, color correct, create visual effects, mix audio, finish and deliver all from one system. It also lets you collaborate and bring people with different creative talents together.
Download DaVinci Resolve 16 and create amazing video edits and compositions. The program works on a 64-bit system and was tested to operate on Windows 10 operating system, Linux, and macOS 10.14.6 or above. This is the best free video editing software with the most advanced color corrector.
Work natively with an extensive list of image, audio, and video format and codecs so you can mix various sources on the timeline at the same time. With a single click, you can instantly move between editing, color, effects, and audio. You never have to export or translate files between separate software tools because, with DaVinci Resolve 16, everything is in the same application.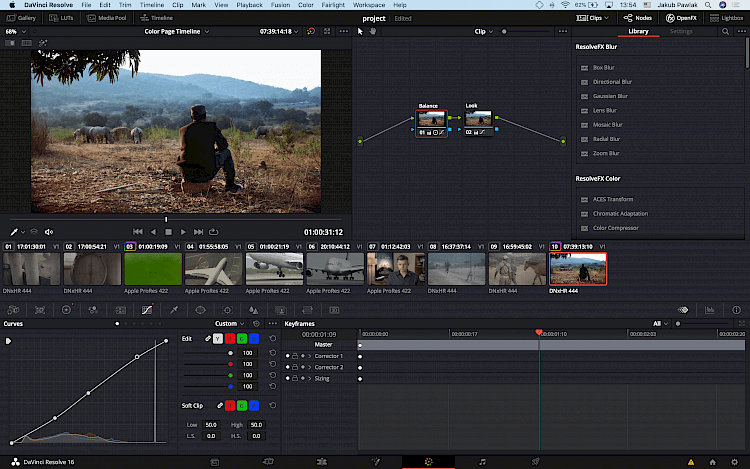 DaVinci Resolve 16 is the only post-production software designed for true collaboration. Multiple editors, assistants, colorists, VFX artists, and sound designers can all work on the same project at the same time.
New features include LUT browser, shared grades, multiple playheads, Super Scale HD to 8K up-rezzing, stacked timelines, on-screen annotations, subtitle and closed captioning tools, better keyboard customization, and new title templates. What's more, the new GPU accelerated scopes provide more technical monitoring options. Plus, Fusion is dramatically faster and Fairlight adds immersive 3D audio.
DaVinci Resolve has been used on more feature films and television shows than any other grading system. Download version 16 and use the industry's most powerful primary and secondary correction tools, advanced curve editor, tracking and stabilization, noise reduction and grain tools, ResolveFX, and more.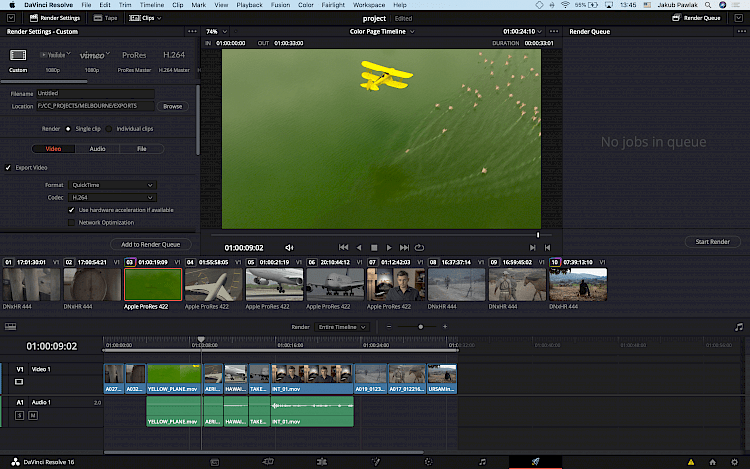 DaVinci Resolve 16 includes everything professional editors need to cut blockbuster films, television shows, and commercials. It's perfect for both offline and online editing. The high-performance playback engine makes editing and trimming incredibly fast, even for formats such as H.264 and RAW.
With new Apple Metal and CUDA GPU processing, the Fusion page is faster than ever. Fairlight audio gets a massive upgrade with new ADR tools, audio normalization, 3D panners, audio and video scrollers, a sound library database, and built-in cross-platform plug-ins such as reverb, hum removal, and de-esser.
DaVinci Resolve 16 Cut Page is an alternate edit page with a simple interface and ready to use tools that will help you work faster. The cut page lets you import, trim, edit, add titles, transitions, automatically match color, mix audio, and more. Plus, the regular edit page is still available so you can switch between them if needed.
DaVinci Resolve 16 has full Fusion visual effects and motion graphics built-in. The Fusion page gives you a complete 3D workspace with over 250 tools for compositing, vector paint, keying, rotoscoping, text animation, tracking, stabilization, particles, and more. 16 improves accuracy of camera trackers.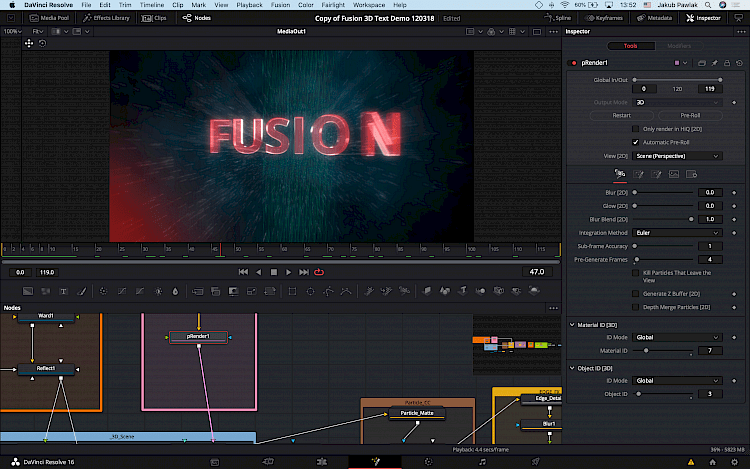 Fusion brings the world's most advanced compositing software for visual effects artists and motion graphic animators right into DaVinci Resolve 16. So now you can create cinematic feature film quality visual effects and stunning broadcast motion graphic animations without having to switch software applications.
Overall, DaVinci Resolve 16 its an amazing free software used by the top professionals in the movie industry. It offers not only the legendary color tools with the quality you can't produce on other systems, but also a full solution to cut, edit, add visual effects and audio post-production, and even render the final product.
Don't hesitate and download DaVinci Resolve 16 and give it a try.
System requirements
Windows: Windows 10 (64-bit).
Apple: Mac OS 10.14.6 Mojave.
CPU: Modern computer platform with at least a Quad-core CPU.
RAM: 16 GB of system memory. 32 GB when using Fusion.
Graphics card:
Integrated GPU or discrete GPU with at least 2GB of VRAM.
GPU which supports Metal or OpenCL 1.2.
You might also like