Download 360 Total Security directly from the developer.
Category: Antivirus
Version: 10.2.0.1159
Last update: 21/09/2018
License: freeware
360 Total Security review
360 Total Security is a great software to secure Windows system against viruses, trojans, malware, etc. This antivirus suite is using four security engines: 360 Cloud Engine, 360 QVMII, Avira and BitDefender. By default, antivirus uses the solutions developed by the developer, another engine can be activated from the main window.
The program offers module to manage system updates and a sandbox feature allowing applications to run in an independent environment without the risk of operating system to fail. In addition, antivirus checks WiFi network for security errors, allows you to quickly scan the system and selected locations. The developer puts on the community and each user application 360 Total Security has an impact on the further development of the package.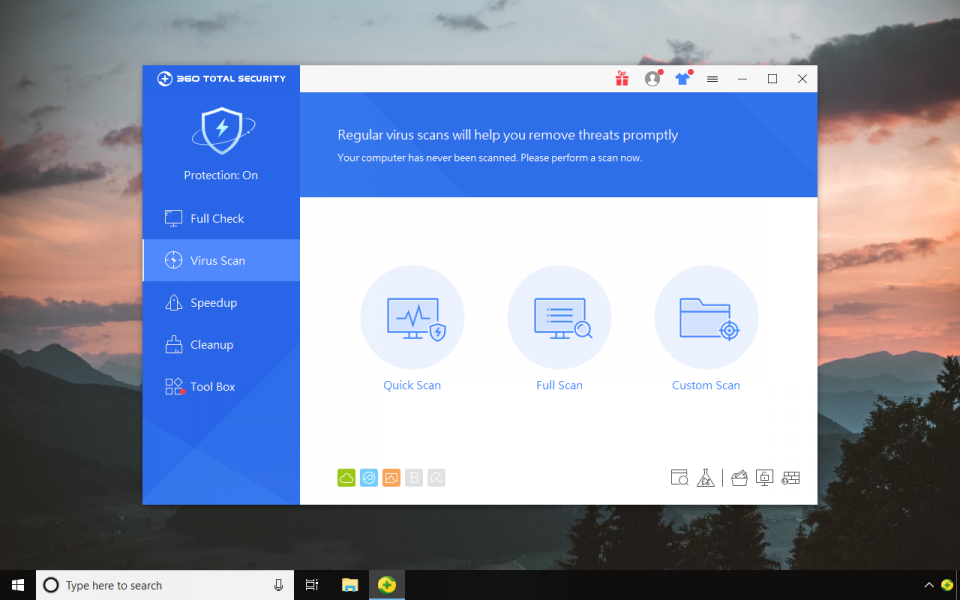 360 Total Security takes care not only about security but also offers features responsible for speeding up your PC. On the Speedup, we can find recommended settings for programs and services running on the system. With the help of this module, we can quickly free up system resources and increase the efficiency of the system. Database Speedup recognizes more than 45,000 applications.
In addition to Speedup, it is also available Cleanup mechanism responsible for cleaning the remains of the programs installed on your system, and unnecessary system files. From the 360 Total Security Tool Box menu we have access to modules like registry cleaner, firewall, sandbox, ransomware decryption tools, system backup cleaner, game booster, browser protection, instant setup, patch up and 360 document protector.
360 Total Security Download
You can download 360 Total Security 10.2.0.1159 for Windows Mac.